How to get to ITQB
The ITQB is located in Oeiras, approximately 15Km from Lisbon. There are two direct road connections between Oeiras and Lisbon: one by motorway, Autoestrada de Cascais - A5, and another by coastline road, Av. Marginal. The main ITQB building is located within the campus of the National Agricultural Station (EAN). The main entrance of the EAN is on Avenida da República in the zone of Nova Oeiras.
Coordinates (
accurate to 100 metres)
latitude: 38:41:46N (38.696)
longitude: 9:19:19W (-9.322)
Arriving by Car
See maps below
To reach Oeiras from Lisbon you have to take Autoestrada de Cascais (A5) and leave the road at the Oeiras access. Then, follow the signs to Nova Oeiras.
If you come from the North of Portugal, you do not need to pass through Lisbon to reach Oeiras. You leave Autoestrada do Norte in Alverca following the signs to CREL. Follow CREL almost until the end (after the toll at Queluz). Then, you can follow through Autoestrada de Cascais (A5). You take a similar path if you come from Autoestrada do Oeste.
ITQB can also be reached by car using the seaside Av. Marginal:
Coming from Lisbon from Av. Marginal take the right turn at Oeiras near the fast food chain (MacDonalds). At the first roundabout turn left cross the small bridge and turn right going under the train bridge. At the red lights turn left and drive for 300m. On the first turn go right till the end of the road reaching Av. da República. Then turn left and 100m after turn right into the main gate of "Estacao Agronomica Nacional (EAN)". Follow the ITQB signs.
Arriving by Plane
Lisbon International Airport is 45 minutes drive for ITQB - Oeiras.
The easiest way is to take a taxi directly to ITQB. On arrival at the Lisbon airport, please go to the Visitors and Convention Bureau where there is a Taxi Voucher service from where you can get a taxi without queuing (The price of this service is around 35 Eur). Or queue for a taxi from the taxi rank immediately outside the arrivals section.
A cheaper way is to take the Aerobus to Cais-Sodré (costs about 2.3 € and is valid all day in Lisbon bus company - Carris ) and then take the train (see below).
Arriving by Train
There are very frequent, fast and reliable train connections from Lisbon to Oeiras (13km). To see timetables click here.
The train station in Lisbon is called "Cais do Sodré" and the trip should take less then 25 minutes to Oeiras (ticket costs about 1.2 € ). From Oeiras train station a 12 minutes walk in a straight line or 5 minutes by taxi (about 3.5 €) to ITQB.
Maps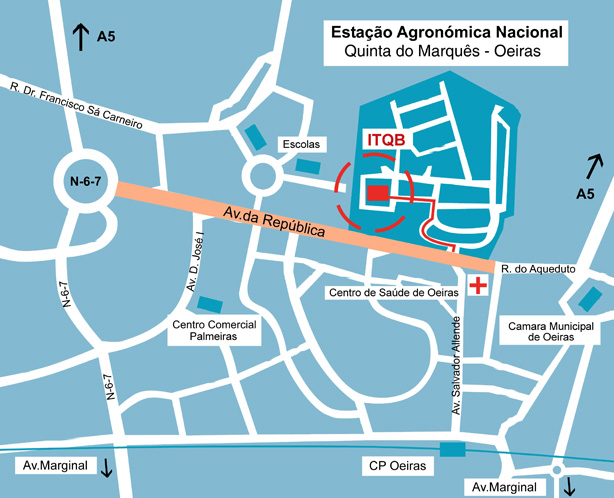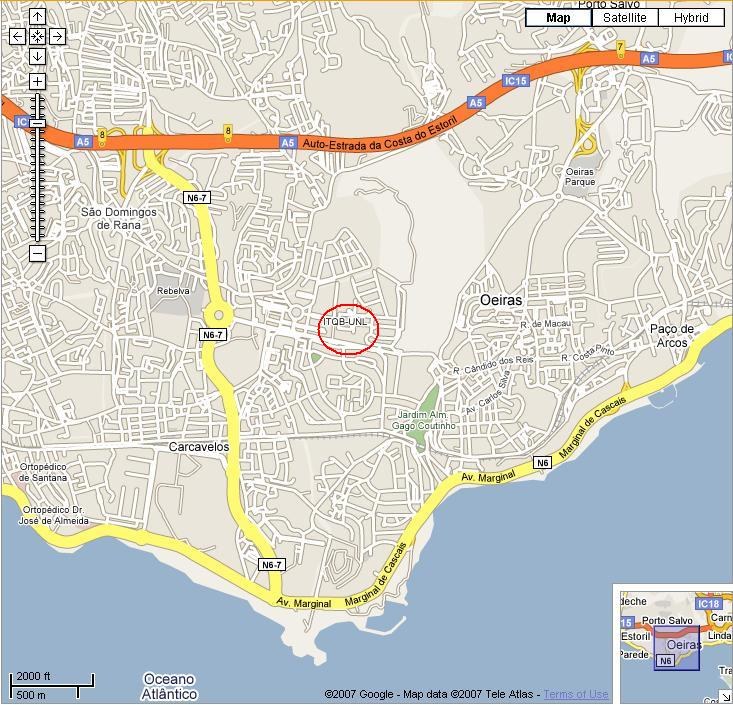 Online Maps