Cork oak tree whole genome sequenced by Portuguese team
Results published in Nature group Scientific Data magazine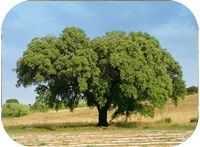 Oeiras, 23.05.2018
The first sequence of the cork oak genome was now published in Scientific Data, a Nature group open access magazine, by a team of Portuguese researchers. This will provide an important tool for advancing knowledge of cork oak genetics and genomics. Although not yet in its final version, this is the most complete information ever made available to the community due to the effort of a Portuguese team involving 5 national institutions - Biocant, CEBAL, iBET, INIAV and ITQB NOVA. This is the largest sequencing project carried out in Portugal, and particularly relevant as it focused on one of the major national symbols - the cork oak was declared Portuguese National Tree by the Parliament in 2011.
Although larger than that of rice, the cork oak genome is only 1/3 of the size of the human genome. Researchers have identified the sequence of more than 900 million base pairs of DNA from a selected tree (cork tree HL8). The sequenced tree has been growing since the 19th century in the Herdade dos Leitões and is owned by Eng. João FP Lopes who, from the first day, was an enthusiastic supporter of the initiative, facilitating resources and access to biological material.
"It has been a pleasure to have been involved in this challenging project from its inception. ITQB NOVA has been involved in several steps, from preparing the project application, getting funding, gathering the team, including public and private stakeholders, but also in the field and lab work, collecting samples, isolating nuclei and DNA, doing bioinformatics analysis, interpreting and discussing results and of course contributing for writting this paper", says Margarida Oliveira, ITQB NOVA researcher and one of the corresponding authors. "Sequencing cork oak genome was a enormous task that will now let us go further in the knowledge of its genomics and genetics, with implications not only in Science but also in our Culture and Economy".

The project kicked-off at the end of 2013 with funding from InAlentejo, and attracting several private sponsors, such as Corticeira Amorim, Cork Supply and Caixa de Crédito Agrícola. "Genosuber - Sequencing of the cork oak genome (Quercus suber)" has already won the Vida Rural Alqueva prize (16 April, 2015) and the Entrepreneurship and Innovation Award for Agricultural Credit, in the category "High Potential Projects Promoted by Associate of Agricultural Credit "(2 Dec. 2015).
Original paper
Scientific Data 5, Article number: 180069 (2018) doi:10.1038/sdata.2018.69
The draft genome sequence of cork oak
António Marcos Ramos , Ana Usié, Pedro Barbosa , Pedro M. Barros , Tiago Capote, Inês Chaves , Fernanda Simões , Isabl Abreu, Isabel Carrasquinho , Carlos Faro, Joana B. Guimarães , Diogo Mendonça, Filomena Nóbrega, Leandra Rodrigues, Nelson J. M. Saibo, Maria Carolina Varela, Conceição Egas, José Matos, Célia M. Miguel, M. Margarida Oliveira , Cândido P. Ricardo & Sónia Gonçalves
In the media
Árvore nacional, o sobreiro já tem o genoma descodificado, Público, 23.05.2018
Já se conhece o genoma do sobreiro de Montargil, Observador, 23.05.2018
Cientistas portugueses revelam primeira sequência do genoma do sobreiro, RTP notícias, 23.05.2018
Cientistas portugueses revelam primeira sequência do genoma do sobreiro, Diário de Notícias, 23.05.2018
Cientistas portugueses revelam primeira sequência do genoma do sobreiro, TSF online, 23.05.208
Cientistas portugueses revelam primeira sequência do genoma do sobreiro, Impala News, 23.05.2018
Cientistas portugueses revelam primeira sequência do genoma do sobreiro, O Jogo, 23.05.2018
Cientistas portugueses revelam primeira sequência do genoma do sobreiro, Notícias ao Minuto, 23.05.2018
Cientistas portugueses revelam primeira sequência do genoma do sobreiro, Porto Canal, 23.05.2018
Cientistas portugueses revelam primeira sequência do genoma do sobreiro, PT jornal, 23.05.2018
Cientistas portugueses revelam primeira sequência do genoma do sobreiro, Visão online, 23.05.2018
Cientistas portugueses revelam primeira sequência do genoma do sobreiro, Destak online, 23.05.2018
Sobreiros: cientistas portugueses fazem descoberta inédita, TVI online, 23.05.2018
Portugueses descodificam genoma do sobreiro, Rádio Renascença, 23.05.2018
Cientistas portugueses descodificam código genético do sobreiro, Economia Online, 24.05.2018
Cientistas portugueses descodificam genoma do sobreiro, Rádio A Voz da Planície, 25.5.2018
Cientistas alentejanos fazem descoberta inédita do DNA do sobreiro, Rádio Campanário, 25.5.2018
Cientistas portugueses revelam primeira sequência do genoma do sobreiro, Diário do Sul, 25.5.2018
O genoma da sombra do montado, Sul Informação, 30.05.2018
O genoma da sombra do montado, Elvas News, 30.05.2018