Training course on the Chemistry of Metals in Biological Systems
Registrations are open until January 31st 2019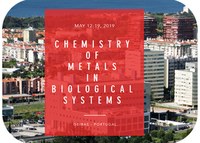 Oeiras, 13.12.2018
Registrations are now open for a one week course on the Chemistry of Metals in Biological Systems. The course will be held from 12 to 19 May 2019 at ITQB NOVA within the framework of the European TIMB3 (Twin to Illuminate Metals in Biology and Biocatalysis Through Biospectroscopy) project.
The course is targeted for PhD students who are not in their first year of studies, and post-docs within three years of obtaining their PhD. If you are a member of a laboratory affiliated with the TIMB3 Consortium you are eligible for support that will cover your registration and expenses, all information regarding registration can be found on the website.
Chemistry of Metals in Biological Systems is a long tradition course regularly organized since 1985 by an European team of bioinorganic chemists. It has trained more than 1,200 doctoral and postdocs students across Europe who have pursued successful academic careers in Portugal and abroad, including several researchers from ITQB NOVA and Universidade Nova de Lisboa. This is the first edition to be held in Portugal, with the theoretical sessions at Hotel Riviera in Carcavelos and the practical sessions at ITQB NOVA. The faculty includes researchers from ITQB NOVA and other European Universities.

This work has received funding from the European Union's Horizon 2020 research and innovation programme under grant agreement No 810856.