Redox-linked conformational changes in proteins
Redox-linked conformational changes in proteins
Proteins are not rigid structures and, besides their normal molecular dynamics, they experience conformational rearrangments triggered by changes in themselves or in the medium where they are imersed. The subject of redox-linked conformational changes is of fundamental importance to study phenomena such as positive homo-cooperativity, for instance. Protonation changes can also lead to conformational changes that may be important in redox proteins (and others). We have studied these matters on several cytochromes using molecular dynamics simulation techniques.


Using MD simulations studies

Cytochrome c3 from Desulfovibrio vulgaris Hildenborough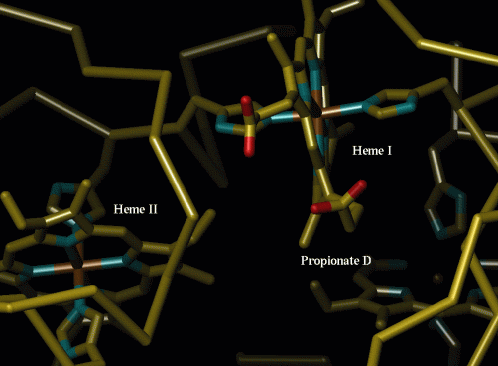 Cytochrome c3 from Desulfovibrio vulgaris Hildenborough MD simulations. Motion (towards the left) of propianate D from heme I when the heme II becomes reduced



Work References:


Soares, C.M., Martel, P.J., Mendes, J., Carrondo, M.A. (1998) "Molecular dynamics simulation of cytochrome c3. Studying the reduction processes using free energy calculations", Biophysical J., 74, 1708-1721



Using X-ray structures

Cytochrome c3 from Desulfovibrio desulfuricans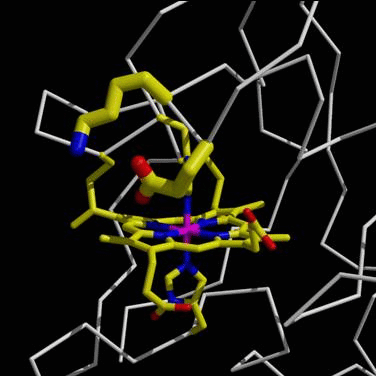 Conformational differences between oxidised and reduced X-ray structures of cytochrome
c
3
from
Desulfovibrio desulfuricans
ATCC 27774 (In collaboration with the Protein Crystallography group at ITQB). Motion (towards the left) of the glutamate residue when the protein becomes oxidised.
Theoretical redox titrations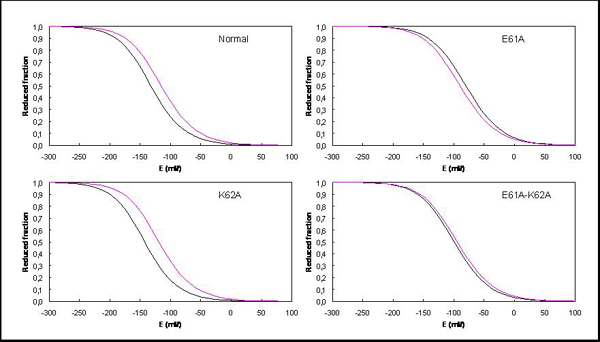 Identification of key residues in the redox positive cooperativity
Work references:

Louro, R.O., Bento, I., Matias, P.M., Catarino, T., Baptista, A.M., Soares, C.M., Carrondo, M.A., Turner, D.L., Xavier, A.V. (2001) "Conformational component in the coupled transfer of multiple electrons and protons in a monomeric tetrahaem cytochrome" J.Biol.Chem., 276, 44044-44051
Bento, I., Matias, P.M., Baptista, A.M., da Costa, P.N., van Dongen, W.M.A.M., Saraiva, L.M., Schneider, T.R., Soares, C.M., Carrondo, M.A. (2004) "Molecular basis for redox-Bohr and cooperative effects in cytochrome c3 from Desulfovibrio desulfuricans ATCC 27774: crystallographic and modeling studies of oxidised and reduced high-resolution structures at pH 7.6", Proteins, 54, 135-152