3rd Edition of the ESACT ANIMAL CELL TECHNOLOGY COURSE
September 29 - October 3, 2013 in Llafranc, Costa Brava / Spain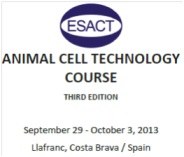 This is an introductory course to Animal Cell Technology (ACT), providing an overview of the field, from the more basic aspects to the final application. It should be of interest to those starting their research activity in ACT, both from Academia or Companies. It is also of interest for those wishing an up-date of the state-of-the-art of ACT in a short Course.
After the interest received by the 1st and 2nd edition and the excellent feed-back from the attendants, the 3rd edition of the ACT course will be organized by the ESACT (European Society of Animal Cell Technology) in Llafranc, Costa Brava/Spain, from 29th September to 3rd October 2013. ESACT is presenting this activity as one more contribution to the community involved in the use of animal cells in Biotechnology and Biomedicine.
The Course is planned in an intensive four-day schedule with a number of participants limited to 30 in order to facilitate the interaction among them and with the lecturers. Lecturers will stay for most of the Course duration. The Course comprises lectures covering the main topics of Animal Cell Technology:
1. Cell line development
2. Cellular mechanisms
3. Post-translational modifications
4. Bioreactor design
5. Downstream processing
6. Genomics and proteomics
7. Bioreactor scale-up and scale-down. Single use bioreactors
8. Process Analytical Technology
9. Economical aspects of ACT bioprocesses
10. Integrated bioprocess for protein production
11. Integrated bioprocess for stem cells
The program has slots dedicated to the preparation and presentation of case studies by participants, and discussion groups with the lecturers.
Confirmed lecturers include Terry Papoutsakis (University Delaware, USA), Manuel Carrondo and Paula Alves (iBET, Portugal), Hansjörg Hauser (HZI, Germany), Francesc Gòdia (UAB, Spain), Ashraf Amanullah (Gilead, USA) and Ane Tosltrup (Boheringer Ingelheim, Germany).
This course is organized by
Paula Marques Alves (Animal Cell Technology Unit, iBET/ITQB-UNL, Oeiras, Portugal) and Francesc Gòdia (Departament d'Enginyeria Quimica, Escola d'Enginyeria, Edifici Q, Universitat Autonoma de Barcelona, Spain)
For more information please visit: http://www.esact.org