Career Opportunities for PostDoctoral Researchers in Life Sciences
Symposium and Job Fair organized by PostDocs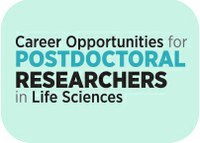 Oeiras, 6.07.2017
To draw attention to the pivotal role that PhD holders can play in the Portuguese economy and to promote their integration in the job market, PostDoctoral researchers from four main LifeSciences research institutes in Lisboa have organized a symposium and job fair to foster a debate that will involve key stakeholders.
The goal of this initiative is to nurture and promote the unique career brand of PhD holders, by encouraging them to network inside and outside academia. The event includes a Scientific Symposium, where PostDoctoral reseachers can present and discuss their work and establish strategic collaborations within academia, and a Job Fair, which will be a great chance to meet a variety of organizations that actively offer positions for PhD holders.
"Considering the large number of PhDs that are being trained, the limited capacity of Academia to absorb them, the current economic growth, and the attraction of innovative start-up companies to our country, this initiative is more important than ever", said Diana Lousa, ITQB NOVA postdoc, one of the organizers. "The symposium will allow discussions within the community and at the job fair, open to the public, companies will showcase their mission and values, and provide PhD holders the opportunity to apply for jobs".
Career Opportunities for PostDoctoral Researchers in Life Sciences will take place in Cascais, 22-24th November, and is a joint organization of postdocs from Centro de Estudos de Doenças Crónicas da Faculdade de Ciências Médicas (CEDOC), Instituto de Biologia Experimental e Tecnológica (iBET), Instituto de Medicina Molecular (IMM), and Instituto de Tecnologia Química e Biológica António Xavier (ITQB NOVA).
Job Fair Programe
Thursday, November 23
09:00 – 19:00 Company Stands
08:00 – 09:00 Registration
09:00 – 10:00 Opening Session
10:00 – 12:00 Pitch session for startup companies
12:00 – 14:00 Lunch
14:00 – 16:30 Workshops
16:30 – 17:00 Coffee break
17:00 – 18:30 "PhD holders in the economy of the future: How to enhance their integration in the public and private sectors."
Friday, November 24
09:00 – 16:00 Company Stands
09:30 – 11:00 Alternative Career Paths for PhDs
11:00 – 11:30 Coffee break
11:30 – 13:00 Speed dating
13:00 – 14:00 Lunch
14:30 – 16:00 Workshops
16:00 – 16:30 Closing session

Download job fair flyer