Paula M. Alves nominated Chairwoman of ESACT
European Society of Animal Cell Technology joins specialists working with animal cells worldwide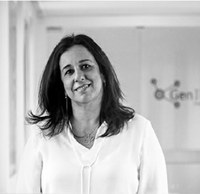 Oeiras, 31.05.2017
Paula M. Alves, coordinator of the Animal Cell Technology Unit at ITQB NOVA and CEO of iBET, was nominated Chairwoman of the European Society of Animal Cell Technology (ESACT). The nomination was announced during its 25th Meeting, held this May in Lausanne, Switzerland.
ESACT is the largest Animal Cell Technology society with over one thousand members, including scientists and engineers in academic, medical and industrial R&D and Production, in the medical services, in industry, and in the political and regulatory bodies. The Society was founded in 1976 to create a forum for the exchange of ideas on biological and engineering techniques to promote knowledge and the use of human and animal cells.
"I am much honored to have been chosen by my colleagues to lead ESACT for the next 2 years. I have been part of this vibrant community for many years, and I will do my best to keep up with the great work that has been developed", said Paula Alves.
"Paula Alves is a leading scientist in Animal Cell Technology, and we are very proud that her work as a researcher and team leader at ITQB NOVA and iBET has led to this nomination", said ITQB NOVA Dean, Cláudio M. Soares.
Paula M. Alves graduated in Biochemistry at the Faculdade de Ciências da Universidade de Lisboa, and holds a PhD in Biochemical Engineering from Instituto de Tecnologia Quimica Biológica da Universidade Nova de Lisboa. Working in Animal Cell Technology since 1990, her PhD contributed to the establishment of 3D in vitro models of Brain Cells for metabolic trafficking studies. She is an Independent Researcher and Principal Investigator of ITQB NOVA since 2005, and Head of the Animal Cell Technology Unit ITQB NOVA/IBET since 2007, where she coordinates the work of five laboratories. Paula Alves has 210 published papers, 30 book chapters and 2 patents, she has supervised 25 PhD students. She has teaching activities at NOVA University PhD Programs and at several Portuguese Universities. Her current research is focused on understanding cell metabolism to improve the efficiency of bioprocesses and at developing new tools and technologies for pre-clinical research.