Program
1st ITQB Phd Students' Meeting - 21/22 October 2010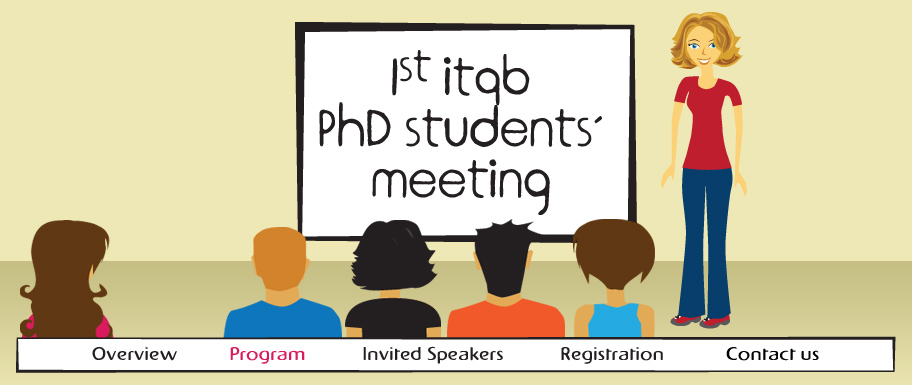 Day 1 (October 21)
08:45 - 09:15 : Registration
09:15 - 09:30 : Opening session
09:30 - 09:50 : OP1. Ana M. Jorge
"Linking S. aureus cell wall synthesis and division"
09:50 - 10:10 : OP2. Duarte Figueiredo
"Novel transcription factors regulating the expression of the OsDREB1B gene in rice (Oryza sativa, L.)"
10:10 - 10:30 : OP3. Helena Veiga
"The direction of chromosome segregation conditions the division plane selection in Staphylococcus aureus cells: a nucleoid occlusion mediated effect"
10:30 - 10:50 : Coffee-Break
10:50 - 11:10 : OP4. Inês B. Guinote
"Functional studies on BolA and related genes: increasing the understanding of a protein with pleiotropic effects"
11:10 - 11:30 : OP5. Ivo H. Saraiva
"Molecular characterization of Photosynthetic Iron Oxidation redox chains"
11:30 - 12:30 : Keynote Lecture - Dr. Mariana Sottomayor
"Vacuoles, alkaloids and peroxidases in plants – just mess, chance, or well organized, regulated, vital plasticity?"
12:30 - 14:00 : Lunch
14:00 - 15:00 : Keynote Lecture - Dr. Nuno C. Santos
"Protein-Biomembrane interactions as therapeutic targets"
15:00 - 15:20 : OP6. José A. Brito
"New dioxomolybdenum (VI) complexes containing oxazoline ligands: synthesis and catalytic applications"
15:20 - 17:20 : Poster session (PP 1 to 12) + Coffee break
17:20 - 17:40 : OP7. Lucélia Tavares
"Neuroprotective effects of serum bioavailable metabolites from Rubus sp."
17.40 - 18:00 : OP8. Isabel Correia
"Elucidation of the molecular recognition of DNA binding sites by AraR, a regulator of sugar utilization in Bacillus subtilis"
Day 2 (October 22)
09:00 - 09:20 : OP9. Mariana B. Carvalho
"The bioremediation potential of cork colonizing fungi - A comprehensive study of Pentachlorophenol biotransformation
by the zygomycete isolate Mucor plumbeus"
09:20 - 09:40 : OP10. Mário Correia
"Crystal Structure of RuvC Holliday junction resolvase from Campylobacter jejuni"
09:40 - 10:00 : OP11. Marta Abrantes
"EfaR, a complex metal-dependent regulator in Enterococcus faecalis"
10:00 - 10:20 : OP12. Rita Francisco
"Regulated-deficit irrigation and grape berry ripening-associated alterations"
10:20 - 10:40 : OP13. Rute G. Matos
"New insights into the mechanism of RNA degradation by RNase II-family of enzymes"
10:40 - 11:00 : Coffee break
11:00 - 12:00 : International Keynote Lecture - Dr. Hilal A. Lashuel
"Challenges and opportunities in Neurodegeneration"
12:00 - 13:30 : Lunch
13:30 - 13:50 : OP14. Sandra M. Carvalho
"Global approaches to study the impact of CcpA on sugar metabolism in Streptococcus pneumoniae D39"
13:50 - 14:10 : OP15. Silvana Cardoso
"A Candidate Gene Association Study for Berry Colour and Anthocyanin Content in Vitis vinifera L. "
14:10 - 16:10 : Poster session (PP 13 to 23) + Coffee break
16:10 - 16:30 : OP16. Tânia Serra
"Transcription factors regulating OsRMC expression in response to salt stress in rice"
16:30 - 16:50 : OP17. Tiago M. Pais
"Is there a link between protein stabilization and protein rigidification induced by compatible solutes of extremophiles?"
17:00 - 18:45 : Round table: I've got a PhD. Now what? - with Dr. Inês Crisóstomo, Dr. Isabel A. Abreu, Dr. Nuno Fontes e Dr. Rita Lemos.
18:45 - 19:00 : Closing session
20:00 : Closing dinner and award presentation ceremony for best presentation and best poster
---
Important Information
Abstracts
Abstracts must be formatted according to the following template
Abstracts of oral and poster presentations must be sent until September 24th to itqb.academics@itqb.unl.pt.
Oral presentations
Duration: 15 minutes
The first slide should Include: Tiitle of the talk, author name, supervisor name, lab name and ITQB logo
Posters
Size: A0 (841 X 1189 mm)
Layout: Portrait
Include: title, introduction, results, conclusion (and references), authors' names, lab name and ITQB logo
Tips: Balance between text and graphics; readable from 1 m distance (suggested font sizes: title 100 pt, headers 50 pt, text 25 pt)
Printing the poster: Please refer to www.itqb.unl.pt/internal/resources-for-researchers/making-a-poster for instructions and a list of places where you can print your poster
List of students presenting posters (1)

PP1. Ana Carina Silva

"Human Amniocyte-derived Cells for Production of Safer Adenovirus for Gene Therapy"

PP2. Ana Filipa Silva

"Presence of polyphosphate accumulating organisms in non-EBPR membrane bioreactors"

PP3. Filipa Pereira Reis

"Functional characterization of Rrp44"

PP4. Ana Tavares

"Can Panton-Valentine leukocidin (PVL) be used as an epidemiological marker for community-associated Staphylococcus aureus"

PP5. Andreia Miguel

"Identification of a putative molecular regulator of cork cambium"

PP6. Bárbara Almeida

"Microbial Community Dynamics during Acclimatisation of Activated Sludge for Pharmaceuticals Biodegradation"

PP7. Catarina G. Fernandes

"Protein cross-linking in cellular morphogenesis: the study of Tgl, a spore transglutaminase"

PP8. Cátia Nunes

"Regulation of SnRK1 and growth in relation to sucrose supply by trehalose 6-phosphate"

PP9. Cláudia S. F. Queiroga

"Disclosing Carbon Monoxide Protection in Cerebral Hypoxia-Ischemia: Insight in the cellular mechanisms"

PP10. Fábio O. Morais e Silva

"Expression profiles and biochemical characterization of hydrogenases in Desulfovibrio gigas"

PP11. Helena F. Deus

"A system to securely expose experimental data from The Cancer Genome Atlas to the Linked Data Web"

PP12. Helga Garcia

"Sustainable isolation of suberin: structural, thermal and morphological characterisation"

PP13. Inês Jesus Silva

"A target-dependent pathway for MicA degradation involving RNase III"

PP14. Isabel Martins

"Ionic liquid effect on fungal metabolism: a proteomics approach"

PP15. Joana Lamego

"Detection and quantification of Carboxylesterase 2 activity by Capillary Electrophoresis"

PP16. Liliana Batista-Nascimento

"Arsenic poisons iron: iron deficiency or iron overload? Destabilization of iron homeostasis in yeast upon arsenic exposure"

PP17. Mafalda O. Figueiredo

"Study of the oxygen response of the anaerobic sulphate reducer Desulfovibrio vulgaris"

PP18. Mafalda X. Henriques

"Localization of the capsule synthetic machinery in Streptococcus pneumoniae"

PP19. M. Alexandra Alves

"Studies on extracellular respiration in sediment bacteria"

PP20. Renata Matos

"Role of prophages in Enterococcus faecalis V583 fitness"

PP21. Rui Ferrreira

"Advances in biorefinery: selective extraction of suberin with biocompatible ionic Liquids."

PP22. Vânia Pobre

"Stability determinants of the regulatory small non-coding MicA RNA"

PP23. Zélia Gouveia

"Pathologic consequences of heme release from hemoproteins"
(1) The first 12 students of the list will present their posters during the Poster Session of Day 1 and the remaining 11 students will present their posters during the Poster Session of Day 2.