Redox potential control and electron-proton coupling in cytochromes
Redox potential control and electron-proton coupling in cytochromes

The way proteins control the redox potential of their redox groups and electron-proton coupling are questions that are being investigated using several techniques, namely continuum electrostatic calculations (with Metropolis Monte Carlo to account for the sampling of states).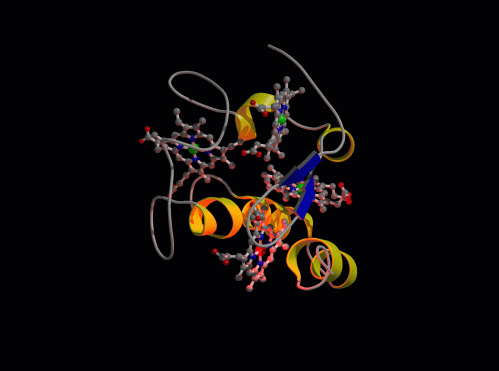 Cytochrome c3 from Desulfovibrio vulgaris Hildenborough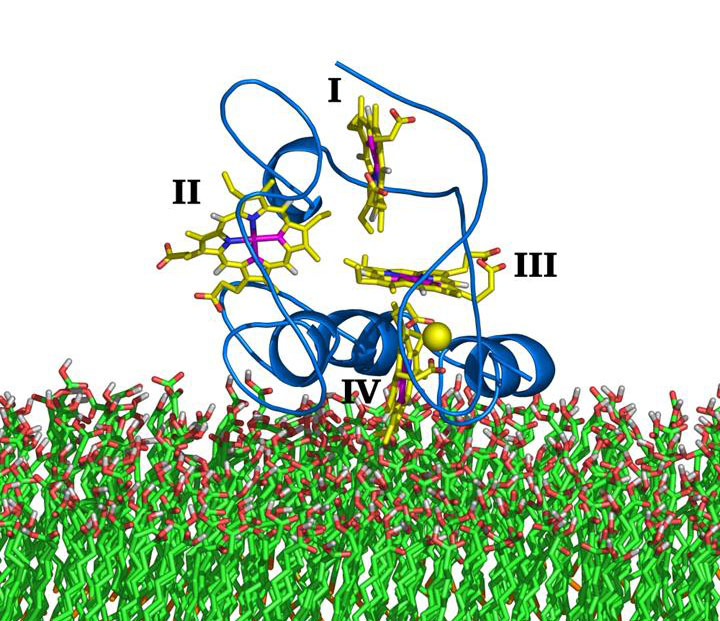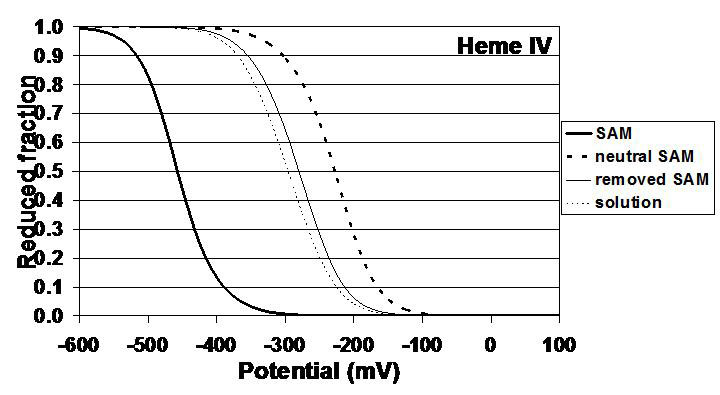 Cytochrome c3 on a C11 SAM (self-assembled monolayer) (collaboration with the Lab of Peter Hildenbrandt: Rivas et al. (2005) Biophys.J., 88, 4188-4199.)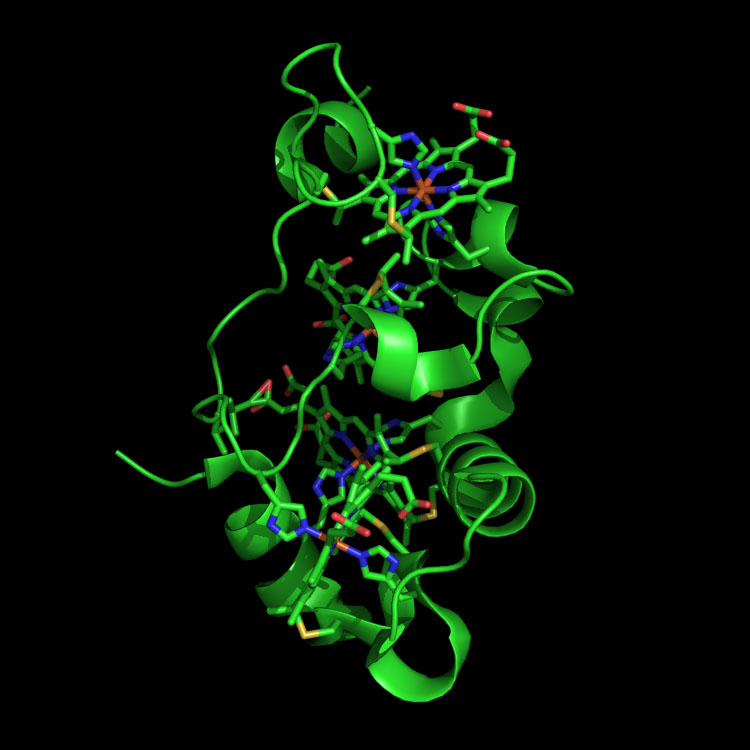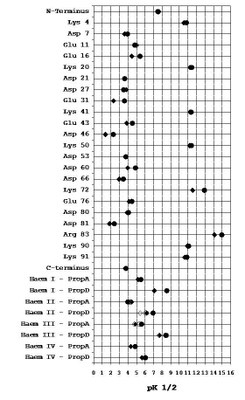 pKa1/2 calculations of all titrable groups in the small tetrahaem cytochrome from Shewanella oneidensis MR-1 (Collaboration with the Lab of Ricardo Louro: Fonseca et al. (2009), JBIC, 14, 375-385)
Recent relevant publications:
Rivas, L, Soares, CM, Baptista, AM, Simaan, J, Di Paolo, R, Murgida, DH, Hildebrandt, P (2005) "Electric-field induced redox potential shifts of tetraheme cytochromes c3 immobilised on self-assembled monolayers studied by surface enhanced resonance Raman spectroscopy and simulation studies", Biophys.J., 88, 4188-4199.
Teixeira, VH, Cunha, CA, Machuqueiro, M, Oliveira, ASF, Victor, BL, Soares, CM, Baptista, AM (2005) "On the use of different dielectric constants for intrinsic and pairwise term in Poisson-Boltzmann studies of protein ionisation equilibrium.", J.Phys.Chem.B, 109, 14691-14706.
Oliveira, ASF, Teixeira, VH, Baptista, AM, Soares, CM (2005) "Reorganization and conformational changes in the reduction of tetrahaem cytochromes.", Biophys. J., 89, 3919-3930.
Fonseca, BM, Saraiva, IH, Paquete, CM, Soares, CM, Pacheco, I, Salgueiro, CA, Louro, RO (2009) "The small tetrahaem cytochrome from Shewanella oneidensis MR-1 shows thermodynamic bias for functional specificity of the different haems", JBIC, 14, 375-385
Soares, CM, Baptista, AM (2012) "Simulation of multihaem cytochromes", FEBS Lett., 586, 510-518