Meetings
B-LigZymes Satellite Meeting 2023 in La Rochelle, France
25th June 2023
B-LigZymes Members from ITQB NOVA, Technische Universität Braunschweig, Gecco Biotech B.V.., University of Groningen and Università di Pavia met in this year's Satellite Meeting to present the latest results and discuss our work.

This Meeting happened in conjunction with the Conference BioTrans2023 where we shared in Posters and Oral Communications.

A big thank you to the participants for a great morning, with amazing science!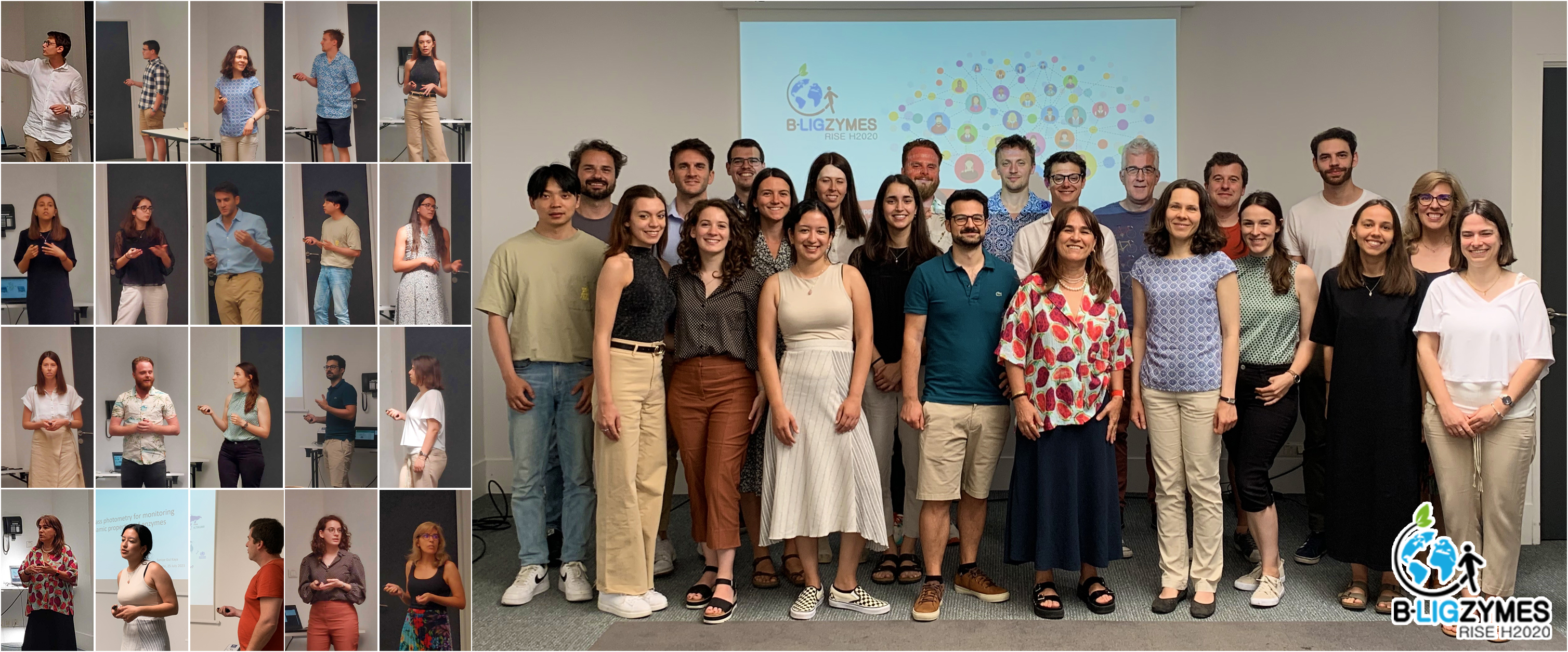 ---
Beyond the Lab Course in Barcelona, Spain
Computing and business skills for science students
20 to 24th February 2023
The "Beyond the Lab" course was organized by Zymvol, in collaboration with the B-LigZymes and BioInspireSensing European projects.
It was an exciting first edition, with a program where computing & business were as entangled as innovation requires nowadays 💡

We dived head-first into:

🔹 Homology modeling & Alphafold
🔹 IT & data tools for business
🔹 Branding & Storytelling
🔹 Business models & Design thinking
🔹 Public & Private Fundraising
🔹 IP protection
🔹 Fireprot for Protein Engineering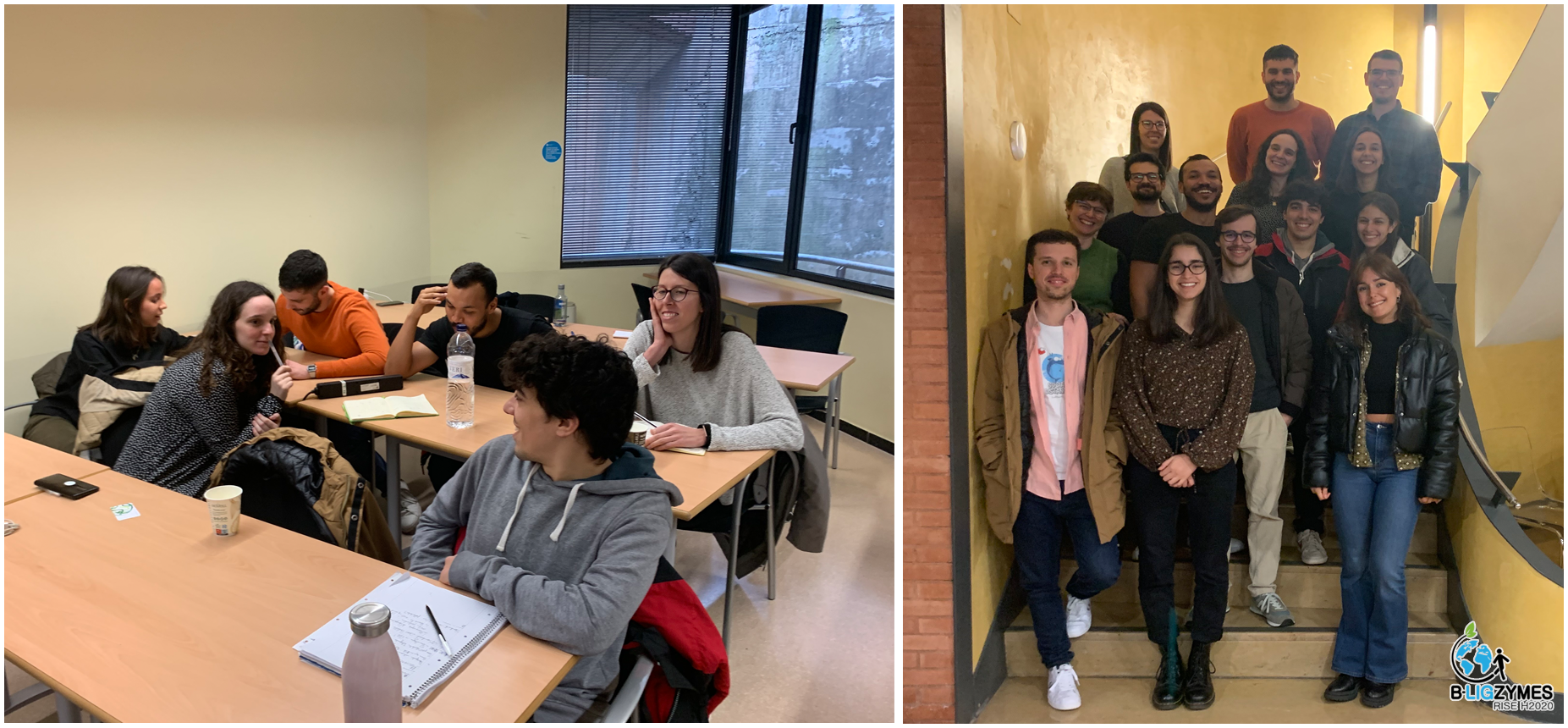 ---
Summer 2022 B-LigZymes Meeting in Siena, Italy
5th July 2022
The Summer 2022 Project Meeting was held during the Oxyzimes 2022 Congress with members of the Consortium and secondees.
B-LigZymes Coordinator, Lígia O. Martins, opened the meeting with a presentation on the past, present, and future state of the Project, followed by presentations by Lur Alonso, Klara Birikh, and Nikola Loncar about ZymVol, MetGen, and GECCO, the work performed at their companies and secondment opportunities.
Students and secondees from ITQB, RUG, INQUIMAE, and INTEQUI presented a pitch on their work related to lignin-degrading oxidoreductases and flavin oxidases. The meeting was topped up by the presentations of the latest partners, Andrea Mattevi from the University of Pavia, and Martin Palazzolo from Universidad Nacional de San Luis, on their institutions and research.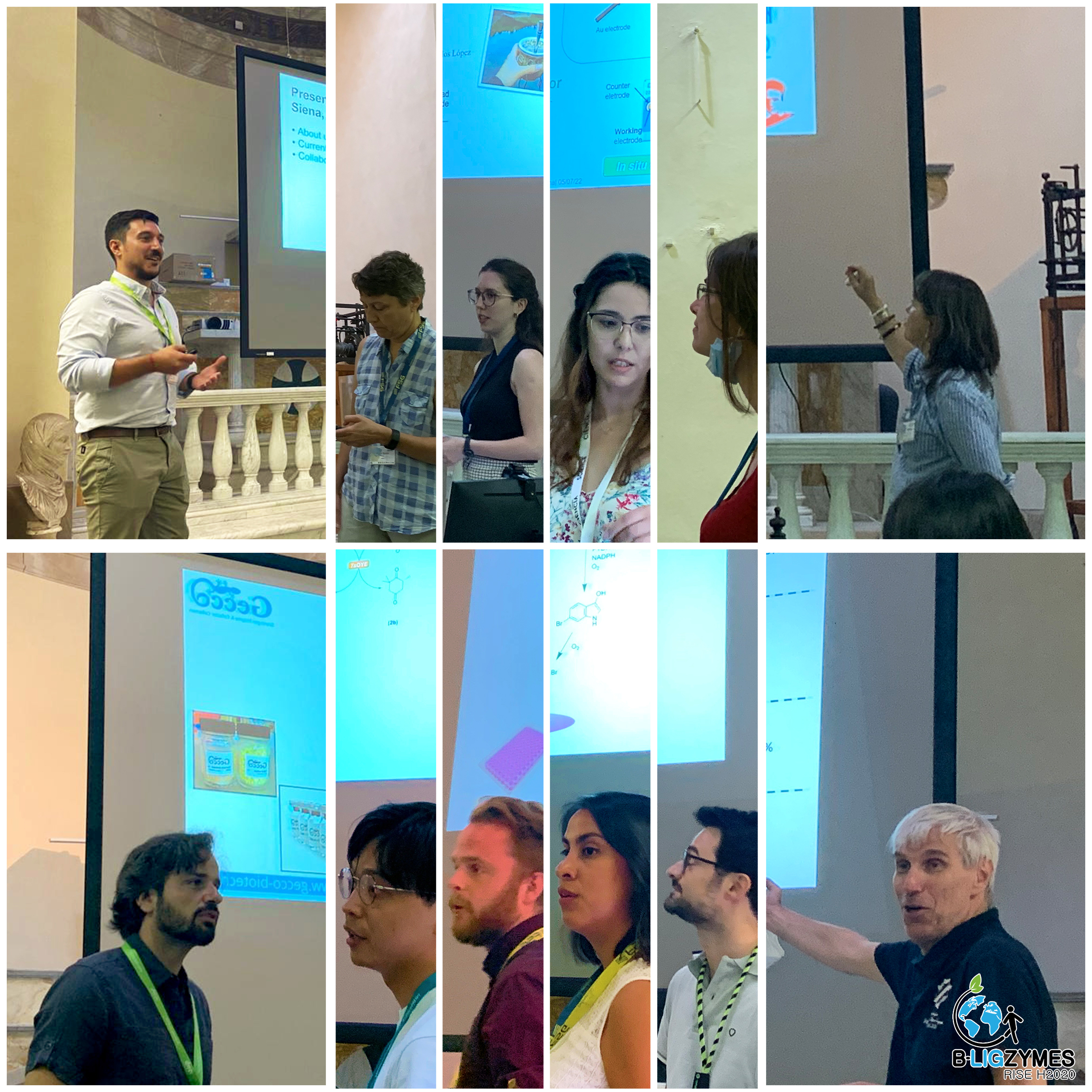 ---
B-LigZymes Re-kickoff Meeting | virtual |
15th February 2022
The B-LigZymes RISE European Commission Project consortium got together for a 2022 kick-off meeting after 18 months of lockdown.
🌍 The program fosters collaborations across sectors, disciplines, and countries and a shared culture of research & innovation. During this meeting, we planned and discussed secondment opportunities at partner organizations in Europe, the USA, and Argentina and welcomed two new partners, Prof Andrea Mattevi from the University of Pavia and Dr. Martin Palazzolo from the Univerity of S. Luis, Argentina!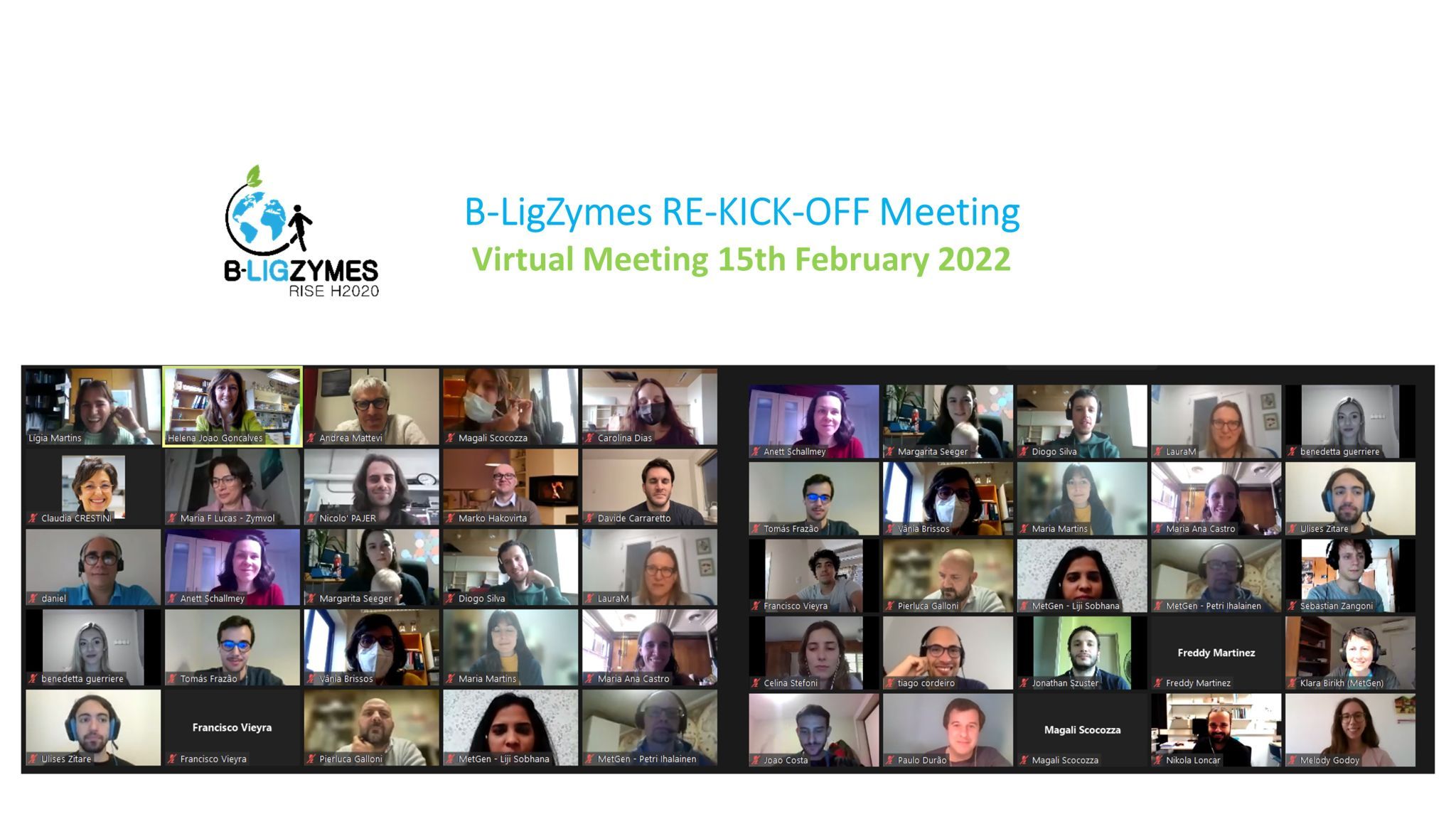 ---
B-LigZymes Mid-Term Review Meeting | virtual |
9th and 10th December 2020
B-LigZymes is happy to announce the Mid-Term Review Meeting today and tomorrow to gather 10 international and intersectoral partners to share the latest advances and progress. B-LigZymes aims at solving key fundamental and technological challenges for lignin biodegradation and valorization. The project is in its second year and welcomed new partners to reinforce the link between academia and industry – UNIVE and GECCO. Major Achievements: 11 secondments with 8 partners involved, 4 papers and 1 book chapter published, newly funded BBI-JU H2020 project SMARTBOX, dissemination in workshops, lectures, and posters in conferences, outreach activities in the ITQB Open Day, European Researchers Night 2019, and 2020 with lab demo video and a Quiz about Enzymes and circular economy.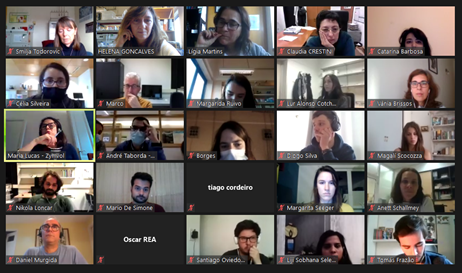 ---
Short-Training Workshop B-LigZymes on Bacterial Oxidoreductases for Lignin valorization: Structure & Function & Mechanisms at Groningen |
7th July 2019
The Short-Training Workshop organized by B-LigZymes on Bacterial Oxidoreductases for Lignin Valorization was held during the Biotrans2019 Conference with members of the Consortium and secondees.
Lectures were presented about (I) Value from lignin: a focus on the lignin structure, (II) Catalytic mechanisms of laccases and DyP-peroxidases, (III) Bacterial b-etherases and Glutathione lyases, (IV) Computational approaches to unveil structure-function relationships of oxidoreductases. The secondees presented pitch talks and posters about their work being developed in the context of the B-LigZymes project.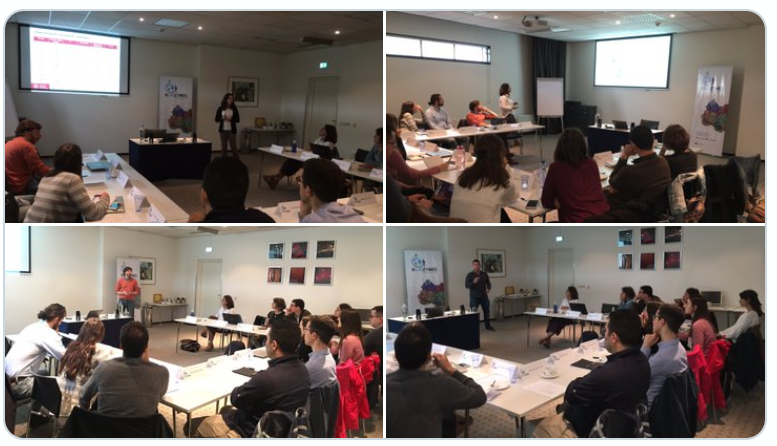 ---
Kick-off meeting at Brussels |
26 February 2019
B-LigZymes kick-off meeting was held at Permanent Representation of Portugal to EU (REPER), Brussels, on February 26th, 2019. Its main purpose was first to allow the participants to get to know each other and establish lines of communication. In addition, it was organized to plan the start of the project, delineate the final terms and conditions of the consortium agreement, review the secondments, tasks, activities, and deliverables, and finally discuss monitoring the project progress and reporting. A total of 15 participants from 8 different institutions and 8 different countries discussed topics related to B-LigZymes.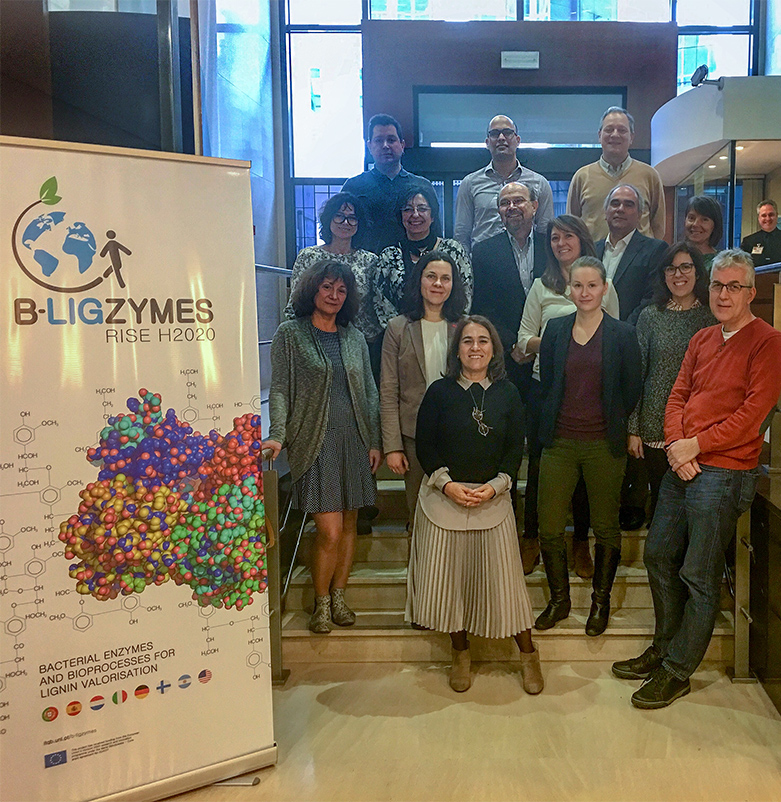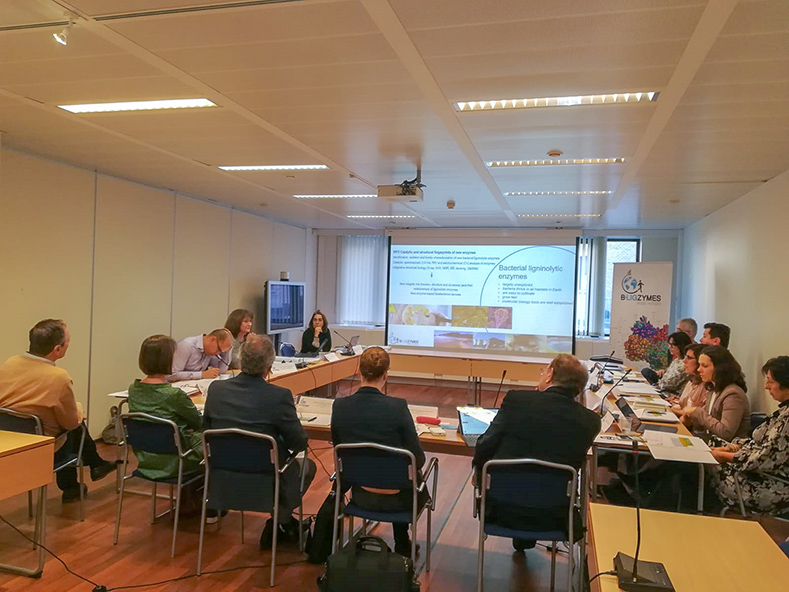 ---
RISE-H2020 2019 Coordinators day | Brussels
17-18th January 2019
B-Ligzymes coordinator team (ITQB-UNL), Lígia Martins, Helena Cordeiro, and Helena Gonçalves attended the RISE H2020 Coordinators' Day at the Research European Agency where topics such as "Eligible researcher and amendments", "Payments and audit", "Reporting and meetings", "Ethics" and "Dissemination and Communication" were covered by REA officers and through testimonials of RISE projects coordinators. Visit the event webpage.