iGEM - Biotechnology and Forests Meeting
When
24 Sep, 2020

from




09:00 am

to

12:30 pm

Add event to your calendar

iCal
The iGEM scientific meeting about Biotechnology/Synthetic Biology Approaches to Forestry Management aims to bring together the NOVA_LxPortugal team and researchers from all over the country to share and discuss the work being done regarding Pine Wilt Disease, Nematology, Biotechnology, Forestry and Plant Health, among other issues.
NOVA_LxPortugal, supported by ITQB NOVA, is the first, and only, Portuguese team participating in the international SynBio competition iGEM, with project PineNematoFight. Its goal is to control and prevent the spreading of Pine Wilt Disease in Pinus pinaster (maritime pines) using a biocontrol organism, an engineered Pseudomonas putida capable of producing a nematicidal compound.
Joins us via Zoom on September 24th and 25th, from 9 to 12:30 AM, trough the links:
Day 1- Password: 662050
Day 2 - Password: 716848
Come share your views and your related work, get to know PineNematoFight better and learn the latest news about this community's developments and achievements.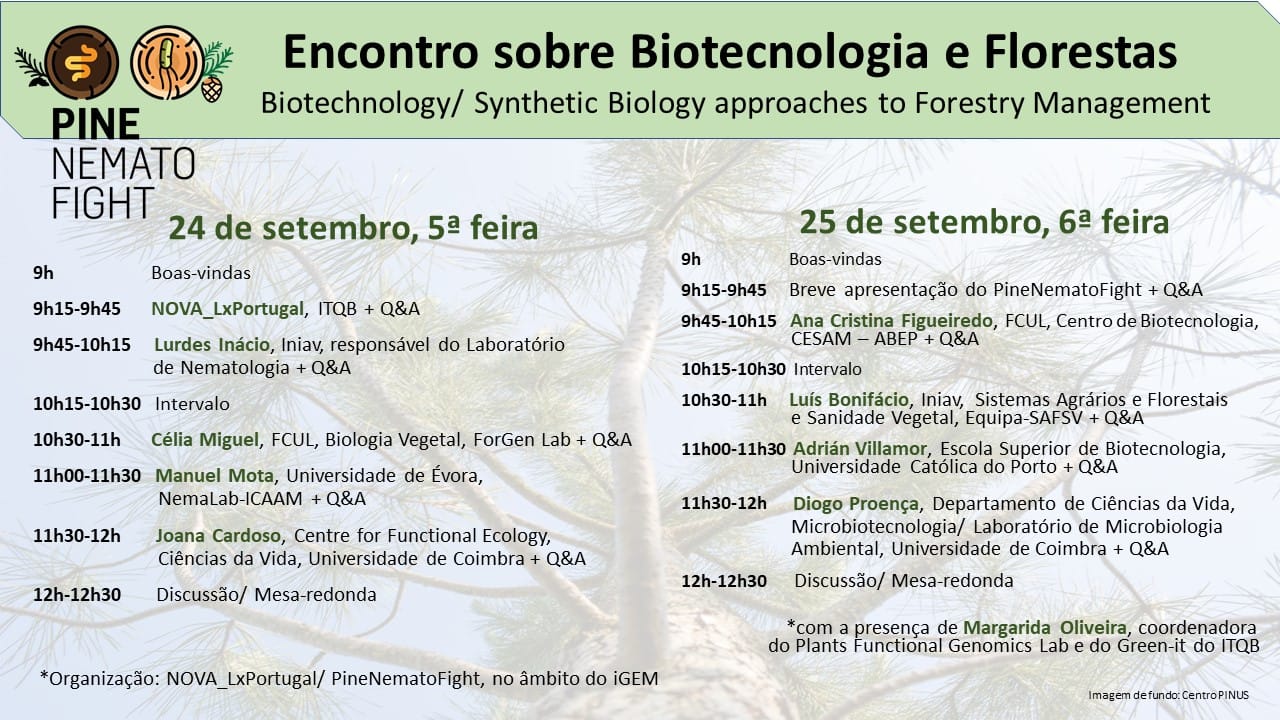 Contacts:
E-mail: pinenematofight@gmail.com
Instagram: igem_nova_lxportugal
Twitter: @IgemNova