StartUp Research - Final Graduation and Pitch Session
Closing session of the 2022 StartUp Research Post-graduation
When
13 May, 2022

from




02:30 pm

to

06:00 pm

Where

ITQB NOVA Auditorium

Contact Name

Miguel Santos

Add event to your calendar

iCal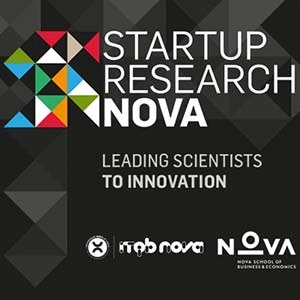 Programme:
14h:30 – Welcome by Miguel Santos (ITQB NOVA) StartUp Research Coordinator
14h:35-14:45 - Opening remarks:
Claudio Soares, ITQB NOVA Dean;
Rita Cunha, NOVA SBE Vice-Dean;
Pedro Patacho, City Councillor for Education, Sports, Libraries & Youth Agenda for Science and Innovation - Câmara Municipal de Oeiras.
14h:45 – Guest Speaker: Miguel Botto – Investment Director, Portugal Ventures

"What does a VC look for in a successful Life Sciences Start-Up candidate project – a generic and personal view. The role and modus operandi of Portugal Ventures in the Portuguese scenario"
15h:15 - Session Outline and Feedback Committee presentation. Moderated by Miguel Santos (ITQB NOVA) and Tomé Salgueiro (NOVA SBE)
. Miguel Botto - Investment Director, Portugal Ventures
. Joana Branco – Executive Director – Biocant – Associação de Transferência de Tecnologia
. Roberto Branco – CEO, Beta Capital
. Patrícia Costa – Investment Manager, Portugal Ventures
. Amine Benmoussa – Partner, Apogee Ventures
. Susana Filipe – CSO & New Business Development Manager, Pharmis Biofamacêutica, Lda.
. John Freshley – Chairman, Bioscience Navigators
Pitch Session I
15h:45 – 16h:20
Pitch 1 (7 min + 10min Q/A from Feedback Committee) – ART: Marta Cunha (ITQB NOVA) & Sara Batista (MM)
Pitch 2 (7 min + 10min Q/A from Feedback Committee) – immNOVA: Anton Kermakov (IGC) & Federico Issoglio (ITQB NOVA)
--------Break – 10 min---------
Pitch Session II
16h:30 – 17h:30
Pitch 3 (7 min + 10min Q/A from Feedback Committee) – DrugNEO: Sarela Santamarina (ITQB NOVA) & Jordi Zamarreno (ITQB NOVA)
Pitch 4 (7 min + 10min Q/A from Feedback Committee) – GrainMatters: José Rodrigues (ITQB NOVA), Jacinta Manta (IMM) & Susana Leitão (ITQB NOVA)
Pitch 5 (7 min + 10min Q/A from Feedback Committee) – VOIce: João Ribeiro (FFUPorto), Filipa Castro (FFUPorto) & Pedro Santos (FFUPorto)
17:30 – Closing remarks
Invited Guests – Feedback Committee
Miguel Botto
Investment Director of the Life Sciences unit at Portugal Ventures
Miguel has been working in the Venture Capital industry since 1992. His track-record includes some of the benchmark investments in the Venture Capital / Venture Capital area in Portugal. Miguel integrates more than 20 boards of directors. Previously, Miguel worked in the tourism sector, as CFO and member of the Board of Directors of a listed company. Alongside his professional career, Miguel has several academic experiences, having taught at HEC – Lausanne, ESADE in Barcelona and, later, at the University of Minho (Management Control and Corporate Governance). His basic training is in Economics (Lausanne), later complemented by Finance and Strategic Management (Catholic Lisbon), Negotiation (Nova) and Leadership (Harvard).
Joana Branco
Executive Director of Biocant – Technology Transfer Association
Joana holds a PhD in Biomedical Sciences (Baylor College of Medicine - Houston, USA) and training in Entrepreneurship from Porto Business School. Joana is also a member of the Board of Directors of P-Bio, Portuguese Association of Bioindustries. She has over 14 years of experience in the biotechnology field, first as an entrepreneur and then as the Innovation Director at Biocant Park, where her acquired competencies in entrepreneurship, technology scouting, business management for science-backed projects and fundraising became an asset. In recent years, she has been responsible for internationalization, entrepreneurship and knowledge transfer projects, along with support for entrepreneurs in the definition of business plans and funding. Joana is also in charge of identifying new business areas, financing opportunities and partnerships, as well as representing the park in national and international consortia, being an active member in panels of the jury to evaluate new business ideas (national and international).
Roberto Branco
CEO – Beta capital
Roberto has over 15 years of experience in innovation financing and is the founder and CEO of Beta Sociedade de Capital de Risco, S.A., a Venture Capital Company launched in 2003 by a group of private investors, investing mainly in eraly stage technologic based innovative start-ups. Prior he was Board Advisor of ADI, the Portuguese Government Department responsible for technological innovation and non executive member of the board of Banco BPI. Roberto gathers consolidated work experience of several years in the industry sector, having been CEO of Soja de Portugal, SGPS, SA (1989-1998) and performed a role in Portuguese Renault (1980-1985) after several years of technical work, since 1971. He is graduated on Electronic Engineering by the Instituto Superior Técnico (IST), 1971, Lisbon, and holds a MBA by the Universidade Nova de Lisboa, 1989.
Patrícia Costa
Investment manager – Portugal Ventures
Patrícia has extensive experience in basic and applied research and in the development of new technologies in Biomedicine. PhD in Cell Biology from King's College London, Patrícia was part of several national and international teams, where she developed innovative projects in areas such as Oncology, Cell Healing and Biomaterials. Experience in the pharmaceutical industry as a Medical Manager in the Consumer Health area. Patricia is now part of the Life Sciences team at Portugal Ventures where she will focus on the analysis and monitoring of projects in the areas of Health Technologies.
Amine Benmoussa
Partner, Apogee Ventures
Prior to that, Amine was with the BDC Healthcare Fund where he led or co-led investments in early to mid-stage healthcare companies, many of which were either acquired or IPO'd on US public markets. Amine is an experienced value-add board member. He served on the board of directors of Alethia Biotherapeutics, Circle Cardiovascular Imaging (acquired by Thoma Bravo) Clearwater Clinical (acquired by EQT Partners), Milestone Pharmaceuticals (IPO), Clementia Pharmaceuticals (IPO and later acquired by IPSEN), Swift Medical, BlueDot, Nicoya Life, Interface Biologics as well as the Hacking Health Accelerator. Amine holds a Bachelor of Computer Science from Concordia University and an MBA from HEC Montreal. He has also completed executive training in Private Equity and Venture Capital at the Harvard Business School, and in Corporate Governance at the Rotman School of Management.
Susana Filipe
CSO & New Business Development Manager at Pharmis Biofarmacêutica – StartUp Research Sponsor & Mentor
Susana Filipe has 20 years of professional experience in Biotech and Biopharma Start-Ups and large corporations, namely within the Oncology Therapeutics area. Currently, as Project Manager – Biopharmaceuticals at Pharmis Biofarmacêutica, Susana is responsible for a new business unit on biological medicines, designing and management of R&D projects, including funding opportunities; is responsible for finding and establishing collaborations with the appropriate stakeholders and supporting the management team regarding product and clinical development. Occasionally Susana is also involved in the elaboration of Business/Marketing plans for the launch of new pharmaceutical products. Susana holds a PhD in Biochemistry and a MSc in Pharmaceutical Industry, having specialized in Professional Project Management and Medical Marketing/Medical Affairs.
John Prista Freshley
Chairman Bioscience Navigators – StartUp Research Mentor
Based in Ann Arbor, Michigan, John Freshley is a high-energy entrepreneur, company builder and leader with 20+ years experience in a wide variety of healthcare-focused companies launching and operating in a region outside of the biotech "hubs" – not unlike Portugal. He has founded, launched, and/or led 9 early-stage life science companies resulting in successes, failures, and always lessons learned. Most recently, from 2013 through April 2019, Freshley served as President & CEO of ONL Therapeutics, an emerging ophthalmology company focused on preventing the death of retinal cells. During his leadership, ONL raised $11M+ in equity and non-dilutive funding, while advancing its lead candidate from discovery to clinical development with the Phase-I trial starting in October 2019. More recently, John has embarked in a new adventure as Executive Chairman at Curio Genomics. Mr. Freshley is 50% Portuguese by heritage, which fuels his interest in helping build the entrepreneurial ecosystem in Portugal, and he is learning.