Registration

Abstract submission deadline for oral presentation: May 31st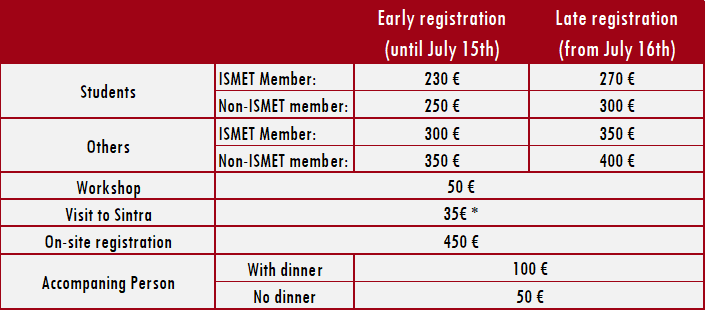 The registration fee includes attendance to the ISMET conference, abstract book, lunch and coffee breaks from 04th to 06th of October, welcome reception, poster sessions and dinner on the October 5th.
For more information on the workshop please click here. The workshop registration fee includes attendance to one of the workshops sessions, lunch on the October 3rd and bus to the ISMET conference site.
The visit to Sintra is payed directly to the travel agency through the contact jorge.fontes@bytravel.pt or cascais@bytravel.pt.

To submit an abstract, please download the template available here. The abstract submission deadline is May 31st!
After completing the registration form you will receive a link where you can submit your abstract. Please note that the abstract should NOT be sent via e-mail or it will not be considered.
If you are a student after the registration, please send to ISMET6 e-mail the letter of your Institute stating that you are a student together with your registration number, otherwise the student discount will not be valid.


Please note:
1. Expenses with the bank transfer must be supported by the sender
2. The transfer must indicate clearly the registration number otherwise we will not be able to match the funds to the registrant and will not be able to provide confirmation.
Bank name: Caixa Geral de Depositos
Beneficiary name: CTQB - Congressos
Beneficiary address: Av. da República EAN,
Postal code: 2780-157, Oeiras - Portugal
NIB: 003500270008265723092
IBAN: PT50003500270008265723092
SWIFT code: CGDIPTPL
Bank address: Rua do Prior do Crato, 70-A
Postal code: 1350-262, Lisboa - Portugal