10 years of the highest field NMR spectrometer in Portugal
A celebration for CERMAX, ITQB NOVA NMR facility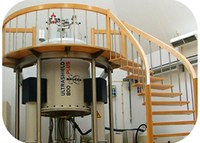 7.02.2017, Oeiras
ITQB NOVA hosts the largest Portuguese NMR facility - Centro de Ressonância Magnética António Xavier (CERMAX). CERMAX operates several NMR spectrometers including the highest field NMR spectrometer in Portugal,(18.8Tesla) with a proton resonance frequency of 800 MHz, that was installed 10 years ago today.
CERMAX's core mission is to make the best possible conditions for using Nuclear Magnetic Resonance available to the Portuguese scientific community, as well as disseminating knowledge of the technique. In addition to the national academic community focused on NMR spectroscopy, CERMAX is available to accept proposals for projects from scientists and researchers of foreign as well as domestic origin and also from industry.
Since 2008 CERMAX has also been holding annual practical introductory NMR courses for new users and has supported since 2006 the annual António Xavier Prize. Established in 2006 by Christian Brevard, president of the direction of the Bruker Group, the prize honours the memory of Professor António Xavier and recognizes his tireless dedication to Science and to Magnetic Resonance in Portugal.
"This equipment is the only one of its kind in our country, and has been serving the Portuguese scientific community from the onset." said Ricardo Louro, coordinator of CERMAX. "We are proud to say that this facility has allowed high field experiments and the development of scientific advances to be performed in our country, and we want to continue serving this mission"