11th ITQB NOVA PhD Students' Meeting
From February 17 to 19, ITQB NOVA PhD students will gather to present and discuss their work.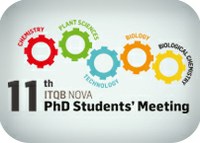 The 11th edition of the ITQB NOVA PhD students' meeting, organized by ITQB NOVA and Instituto de Biologia Experimental e Tecnológica iBET, is taking place from the 17th-19th February 2021, exclusively online.
Along these three days, several scientific areas will be addressed and students' presentations will be distributed by sessions according to their PhD project area. This year, around 70 students will be presenting their work.

Several talks by invited speakers will complement the meeting's program. Edward Cartwright, from Cambridge Healthcare Research, will be presenting on February 17. On the next day, there are two invited speakers: Kate Downes, Lead Scientist for Rare and Inherited Disease from Cambridge University Hospitals NHS Foundation Trust, and António Gomes da Costa, Director of Scientific Mediation and Education Universcience. On the last day, the meeting will host Sónia Negrão, Assistant Professor in Plant Sciences University from College Dublin and also DragonFly Mental Health, a non-profit organization created to improve mental health care access and address the unhealthy culture currently pervading in academia.
For more information check out the programme.