12th ITQB NOVA PhD Students' Meeting
From April 20 to 22, ITQB NOVA PhD Students will gather to discuss and present their work.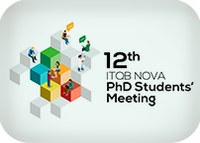 The 12th edition of the ITQB NOVA PhD students' Meeting is coming soon and will take place from April 20 to 22. Organized by ITQB NOVA and iBET, this three-day annual meeting will gather PhD students and researchers from several scientific areas.
More than 60 students will present their work in the oral presentations and poster sessions, within the themes Microbial World, Biochem Crosstalks, Plant the Future, Biotech & Innovation, Fundamentals of Life, Molecular Basis of Disease and Chemistry in Action.
Three invited speakers will complement this program: Maria Fátima Lucas (Zymvol), with the talk "For scientists only: how to get your biotech company working?", happening on Wednesday; João Seixas (TargTex) who will talk on Thursday about the "TargTex story: From Lab meetings to Investor meetings"; and Luísa Lopes (iMM) who will explain "How well do your brain synapses cope with aging?" on Friday.
On Thursday, science communication will be discussed on a round table, with speakers from different backgrounds. Miguel Castanho (scientist, iMM), Joana Sá (scientist, LIP), António Granado (science journalist, NOVA FCSH) and Joana Carvalho (science illustrator) will talk about "Communication in science: are we living in a misinformation era?". Join the discussion and share your opinion.
On Friday morning, participants will also be able to participate in one of the four workshops available: "Shuffling: through stigma and un(healthy) beliefs", "Meaningful life, is mine?", "Plants for all: How to work with and take care of them" and "Craft Brewery: How to create your own beer".
The program of course isn't complete without some leisure time: on the 21st, join the Barbecue by the Pool or the Closing Dinner on the 22nd, sponsored by Oeiras Municipality.
For more information, check out the event's website.