18th European Bioenergetics Conference in Lisbon
Registration is now open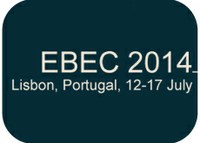 Oeiras, 21.01.2014
Registrations are now open for the 18th European Bioenergetics Conference 2014, EBEC 2014. The Conference will be held on July 12 to 17, 2014 in Lisbon, Portugal.
European Bioenergetics Conferences take place every two years (last ones at Freiburg 2012, Warsaw 2010, and Dublin 2008) and covers all aspects of the Bioenergertics field. According to Manuela Pereira from the Biological Energy Transduction Lab, who chairs the conference organizing committee together with Miguel Teixiera from the Metalloenzymes and Molecular Bioenergetics , "we expect that approximately 500 participants will attend, present their work and discuss their scientific achievements at the Lisbon meeting."
The format of the conference includes plenary lectures, parallel symposia lectures and poster presentations. Details of the meeting, speakers, bursaries to students and arrangements are posted on the website.
The conference will include a lecture by Professor Robert Gennis, University of Illinois, who will be awarded the Peter Mitchell Medal 2014.
Key dates:
11th April 2014 - Deadline for early registration and BBA abstract submission
12th April 2014 - Start of late registration and booklet abstract submission