1st Annual Scientific Meeting of iNEXT Discovery
Organized by ITQB NOVA and Centro Nacional de Biotecnología (CNB) of Spain, the first annual scientific meeting of the iNEXT-Discovery project will take place online, on February 16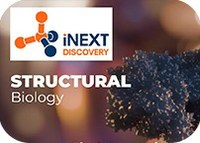 iNEXT-Discovery is an international consortium that aims to connect different structural biology facilities with each other and make them accessible to new user communities, as well as to offer better integration between scientific fields through meetings, practical courses, and workshops.

The First Annual Scientific Meeting of this project is currently being prepared by partners ITQB and CSIC. This single-day Zoom-event will take place on February 16th, 2021 (registration required) and is open to anyone interested in learning more about structural biology and the latest technological developments and applications in the field.
Each session contains three to four webinars by experts in the field of Electron Microscopy, NMR spectroscopy, X-ray crystallography, SAXS, fragment screening, and other technologies.

Please be aware that the number of participants is limited (approx. 300), and on first come, first serve basis.