1st CERMAX practical course on basic NMR
CERMAX, ITQB, 2-3 June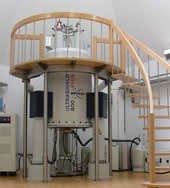 CERMAX
Scope:
A two day course with theoretical and practical sessions covering basic aspects of the technique and oriented towards both beginners and current users of NMR.
Topics:
Basic theoretical aspects of NMR. Introduction to the most commonly used 1D and 2D homonuclear and heteronuclear techniques. Data acquisition and processing with a "hands-on" approach.
Applications:
The course is open and free of charge. The practical sessions are restricted to ITQB students (max 12).
To apply to this course please send an e-mail to lamosa@itqb.unl.pt stating your interest accompanied by a short CV. The deadline for applications is May 25th.
Tutors:
Patrick Groves, Pedro Lamosa, Helena Matias and Manolis Matzapetakis.
CERMAX - Centro de Ressonância Magnética António Xavier
Download the Course leaflet
Program
2nd of June
9.00 – Introduction to NMR spectroscopy (the phenomenon, basic properties of the signal)
10.00 – Instrumental aspects of the spectrometer
10.30 – Break
11.00 – Practical aspects of acquisition and processing (shimming, tuning, acquisition parameters, solvent suppression, pulse programs, 90 degree pulse and T1 determination)
13.00 – Lunch Break
14.30 – Practical sessions
- Sample preparation (30 min)
- Acquisition (1H, presat, 13C, APT)
- Processing and analyzing 1D data
3rd of June
9.00 – Introduction to 2D NMR spectroscopy (COSY and TOCSY)
10.00 – NOE and NOESY
10.30 – Break
11.00 – INEPT, HSQC and HMBC
11.30 – Assignment strategies and small molecule structure (a tutorial)
13.00 – Lunch Break
14.30 – Practical sessions
- Acquisition (COSY, HSQC)
- Processing and analyzing 2D data