1st Portuguese-Spanish-British Joint Biophysics Congress
June 8th: closing date for abstract submission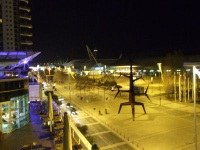 Parque das Nações, Lisbon
Registration and abstract submission are now open for the 1st Portuguese-Spanish-British Joint Biophysics Congress to be held in Lisbon (Parque das Nações) from 10th to 13th of July 2008.
The Portuguese Biophysical Society, headed by Cláudio M. Soares (ITQB-UNL), will host this congress jointly organized by the Biophysical Societies from Portugal, Spain and United Kingdom.
The congress will be an opportunity for these three scientific communities to meet and discuss the latest scientific results in biophysics.
The closing date for abstract submission is June 8th.
Please visit the Congress website for more information