40 years of science career in a book
Claudina Rodrigues Pousada autobiography to be released this Friday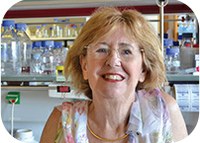 Oeiras, 13.03.2017
Claudina Rodrigues-Pousada, retired professor at ITQB NOVA, has put into a book her 40 years of science research, starting from her youth in Tadim, in the north of Portugal, going to a PhD in Paris and a successful and hardworking career as a scientist, a professor, an advocate for science in society, and as a family woman.
The book "Quarenta anos de investigação – na voragem do tempo" will be officially released this Friday, 17th March, 18h, with the presence of Portuguese Minister of Science, Technology and Higher Education Manuel Heitor, Nova University of Lisbon Rector António Rendas and ITQB NOVA Dean Cláudio M. Soares. The book will be presented by two former PhD students of Claudina Rodrigues-Pousada, Margarida Amaral, who is now Full Professor of Molecular Biology at the Faculty of Sciences, University of Lisboa and Coordinator of BioISI research centre, and Orfeu Flores, currently CEO of Portuguese biotech SME Stab Vida.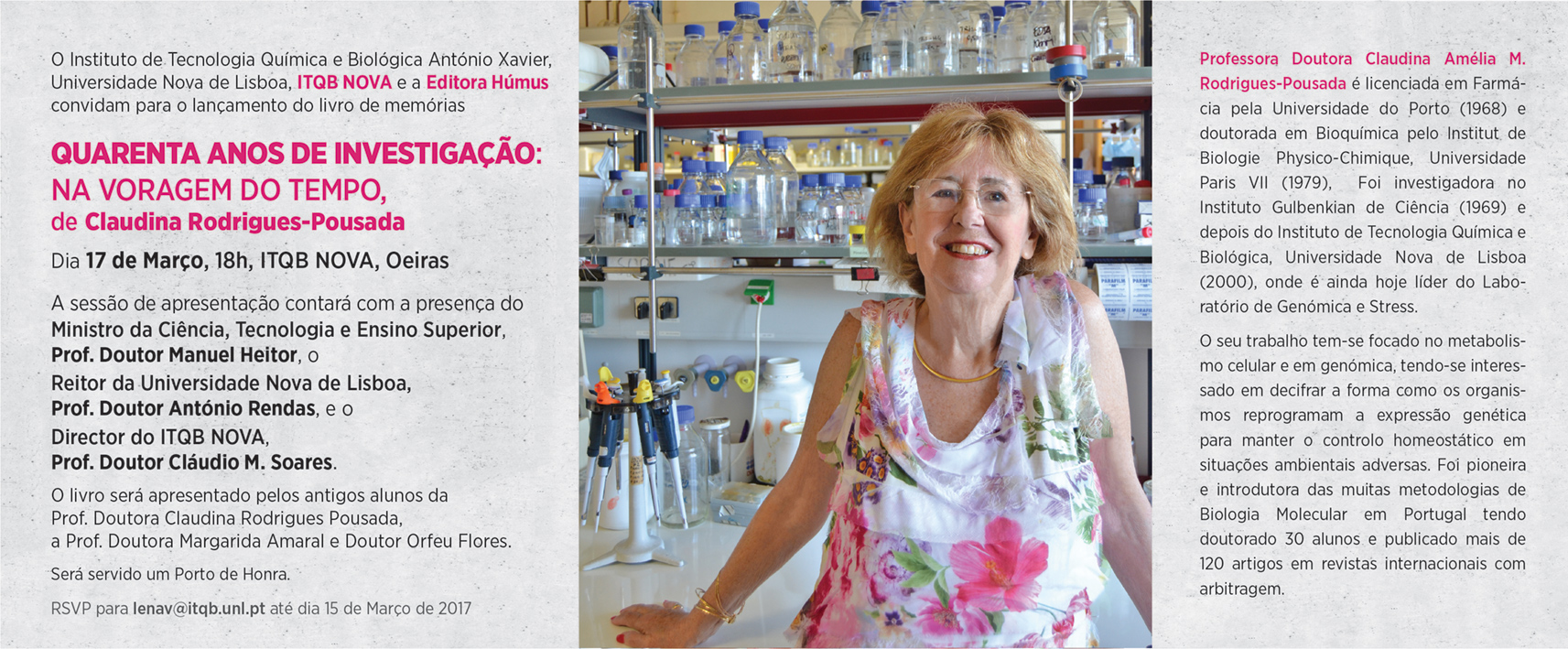 Before obtaining her PhD in Biochemistry at the Institut de Biologie Physico-Chimique in Paris, Claudina Rodrigues-Pousada graduated in Pharmacy at the Universidade do Porto in 1968. She became Researcher at Instituto Gulbenkian de Ciência before moving to ITQB NOVA as Professor and then head of the Genomics and Stress Laboratory. Her work has focused on Cellular Metabolism, Signal Transduction, Genomic and Computational Biology. Recently she has been interested in deciphering how organisms confronted with several environmental cues are able to regulate their gene expression in order to maintain proper homeostatic control and in understanding how stress-responsive genes are activated at the level of transcription. Her group has used the budding yeast Saccharomyces cerevisiae and Desulfovibrio gigas as model systems.
Distintions and awards to Claudina Rodrigues-Pousada
Nominated as Member European Molecular Biology Organization EMBO, 1994
First Prize of Genetics by the "Institute of Medical Genetics", Porto, Portugal, 1994
Nominated to the Prize of L'Oréal "Women in Science", 1999
Prize of Excellence given by the Minister of Science, Technology and Higher Education, 2003 – 2004
Awarded the Honorary life time member Prize by the Cell Stress Society International, 2004
Diplôme d´Honneur FEBS (Federation of the Biochemical Societies) 2008
Prémio Almofariz – Figure of the year 2009
Seeds of Science – Consagração Award 2010
Elected fellow of the American Association for the Advancement of Science AAAS, 2011
Invited as part of "Women in Science", exhibition and book, 2016
Science Merit Award, Minister of Science, Technology and Higher Education, 2016
More information