8th International Congress on Extremophiles
12-16 September, Ponta Delgada, São Miguel, Azores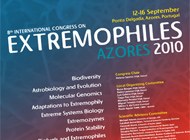 Oeiras, 06.04.10
The 8th International Congress on Extremophiles will be held in Ponta Delgada, São Miguel, Azores, from 12 to 16 of September 2010. With several ITQB researchers integrating the local organizing committee, the congress is chaired by Helena Santos, full professor and head of the Cell and Physiology NMR Lab at ITQB.
The International Congress on Extremophiles was first held in Estoril (1996) and was since held in Yokohama, Hamburg, Naples, Baltimore, Brest, and Cape Town. Around 250 researchers are now expected to participate in the 8th edition to appreciate the current state-of-the-art on Extremophiles and to discuss how to address the challenges of the future.
Among the topics covered in this conference are Astrobiology, Molecular Genomics, Molecular Evolution, Biodiversity, Extreme Systems Biology, Adaptation to Extremophily, Protein Stabilization, Biofuels, and Extremozymes.
Abstract submission by May 15th. Participants submitting abstracts may be selected for oral presentations.
Grants to support the attendance of young scientists, sponsored by FEMS and International Society for Extremophiles, are available.
For more information please visit the congress website http://extremophiles2010.itqb.unl.pt/