A night to celebrate Science around the country
On 29th September go meet a scientist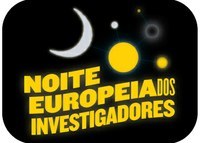 Oeiras, 22.09.2017
On 29th September, Science takes the streets in a celebration that brings together scientists and the public. European Researchers Night in Portugal will reach 18 cities, where curious people will find the challenges the future may bring us and what scientists can do for us. From 6pm to 2am, in Alcanena, Aveiro, Braga, Bragança, Coimbra, Constância, Estremoz, Faro, Guimarães, Lagos, Lisboa, Lousal, Porto, Proença-a-Nova, Sintra, São Miguel, Tavira and Vila do Conde, choose your nearest venue and take your chance to think, see, experiment, talk, meet with scientists and learn more about their work.
The Future is again the theme for this year's event, but there will be activities in all areas: health, aging, cognitive improvement, impact of the human action on the planet, such as climate change and ocean exploration, among others.
ITQB NOVA will be at Pavilhão do Conhecimento, in Lisbon, with many activities and 14 researchers. Come and meet us.

About the consortium
FORESIGHT consortium has organized Researchers Night 2016 and 2017, and a series of activities throughout the year.
Coordinated by Ciência Viva – Agência Nacional para a Cultura Científica e Tecnológica, with partners Instituto de Tecnologia Química e Biológica António Xavier ITQB NOVA, i3S – Instituto de Investigação e Inovação em Saúde and Universidade de Coimbra.
ITQB NOVA Communication Office has the Work Package of impact assessment, and will measure the impact of the activities with the audience, at the venue and with researchers.
European Researchers Night is a European Commission iniciative, funded as a Marie Skłodowska-Curie Action.
Share on Social Media
In the media