A tribute to António Xavier
Celebrating now 20 years within NOVA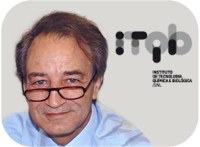 Oeiras, 15.03.2013

ITQB, from now on "ITQB–António Xavier", is currently celebrating its 20th anniversary in Universidade NOVA.
The origins of ITQB go back to 1986 when a novel concept for a high-quality research centre was developed and took shape through a process led by António V. Xavier (1943-2006). In 1993, the centre was integrated in Universidade Nova de Lisboa and became Instituto de Tecnologia Química e Biológica. Now, following a proposal signed by both Carlos Portas, co-founder of ITQB, and former ITQB director Manuel Nunes da Ponte, ITQB is rebaptized Instituto de Tecnologia Química e Biológica – António Xavier.
Both a successful scientist and an excellent mentor for many, António Xavier is remembered as the charismatic individual who set the spirit of ITQB, kept alive today by all those who met him and those who know about him through his work and his former pupils. The proposal to honour António Xavier in this manner was supported by renowned personalities in science and education, including former ministers and research institute directors.
In their letter to the rector of Universidade Nova, the petitioners recognise that the current international projection of ITQB and its relevance in the Portuguese scientific landscape is an irrefutable proof of the vision of a Man like António Xavier.
On December 13th 2012, the proposal was officially presented to the Board of Deans of NOVA, being approved upon the agreement of the ITQB Direction and its Institute Council. On the 14th, the ITQB director, Luis Paulo N. Rebelo, stated his unconditional agreement regarding the proposition and asked for its approval by the ITQB Institute Council. A unanimously, positive answer was received, and on the 1st of February 2013, the General Council of NOVA formally accepted it.