Licensing agreement for Serology4COVID test
Serology4Covid consortium closes agreement with Medinfar and releases the protocol to the scientific community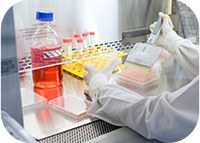 ITQB NOVA is involved in Serology4COVID, a consortium focused to implement a serological test for the detection of antibodies to SARS-Cov-2. The consortium is a joint action between IGC, iMM, iBET, CEDOC-NMS, and ITQB NOVA, and is a key initiative for knowing who had been exposed to COVID-19 at national level.
Now, Serology4COVID consortium closed a licensing agreement for the serological test for SARS-Cov-2 to Medinfar, the leader in the areas of Consumer Healthcare and Dermatology.
At the same time, the consortium guarantees access to the knowledge produced, making the protein and its protocol available to Research Centres in Portugal and in Portuguese Speaking African Countries (PALOP) interested in developing academic studies on the SARS-CoV-2 virus (including serological studies to the respective staff of the institutions).
The serological test developed by the consortium was initially applied in several academic studies promoted by the consortium partners:
8000 tests carried out by IGC as part of a pilot project with the City Council of Almeirim and in the monitoring project of 1500 health professionals, started in April;

3500 tests carried out by the iMM in the scope of the COVID-19 test campaign carried out by the University of Lisbon and projects with the Centro Hospitalar Lisboa Norte, the Faculty of Medicine, and the Instituto Português do Sangue e Transplantação.

1645 by CEDOC-NMS as part of the Serological Screening of the NOVA University of Lisbon community.
Serology4COVID fulfills its purpose: to develop a serological test for COVID-19, a scalable and economical, entirely made in Portugal. It represents a strategic tool to learn about the expansion of immunity in the population and support the implementation of measures to control the disease with a view to minimizing the consequences of this pandemic on health, society, and the economy.
Request the protocol and protein
All research centers, in Portugal and in Portuguese Speaking African Countries (PALOP), who want to develop SARS-CoV-2 virus research projects and/or test their own collaborators, can request access to the protocol and the protein.
To do so, they must:
Fill out the Material Transfer Agreement available here.

Submit the Material Transfer Agreement (in pdf) by email to serology4covid@colife.eu

After submission, the application will be evaluated (applicant, the context of the study, and according to protein availability)

The response will be sent, by the same means, and delivery logistics will be defined, the costs of which will be supported by the receiving entity.
In the news:
Teste serológico português prepara-se para chegar ao mercado