Animal Cell Technology in Dublin
PhD students receive prizes at European meeting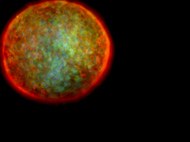 Primary brain cell aggregate micro-encapsulated in alginate bead
Oeiras, 23.06.09
During 21st Meeting of the European Society for Animal Cell Technology, held this month in Dublin, Rita Malpique and Ana Filipa Rodrigues, ITQB PhD students at the Animal Cell Technology Unit, received the second and third prizes for their poster presentations, out of a total of 298 presentations evaluated .
The work "Cell Improved Cryopreservation Protocols for Brain Cell Aggregates", co-authored by Rita Malpique, Luísa Osório, Daniela Ferreira, Friederike Ehrhart, Heiko Zimmermann and Paula Alves consists on the development of improved protocols for the cryopreservation of primary brain cell aggregates, which will greatly contribute to their applications in neurotoxicological studies and basic brain research. The strategy used to guarantee high cell viability and functionality and reduced aggregates fragmentation post-thawing consisted in aggregates micro-encapsulation within clinical-grade, highly purified alginate. This work has been performed under the co-supervision of Paula Alves, head of the Cell Bioprocesses Laboratory-ACT Unit (IBET/ITQB-UNL) and Heiko Zimmermann from the Fraunhofer-Institut für Biomedizinische Technik (IBMT).
The work "Lipid metabolism as a basis for improved manufacturing of complex bioproducts: the case of retroviral vectors" by Ana Filipa Rodrigues, Marlene Carmo, Ana Amaral, Paula Alves and Ana Coroadinha. This work was focused on studying of the role of culture medium lipids and lipid metabolism of cells producing Gene Therapy retroviral vectors and its importance for vector production in serum deprivation conditions. Lipids were found to be the main serum component related with infectious vector production, allowing the design of bioreactorn strategies based in lipid supplementation for serum free process development. Furthermore, 13C-NMR spectroscopy was used to characterize lipid biosynthetic pathways which reveled to be a metabolic target for improving product titer and quality, particularly under serum deprivation, unveiling the potential of metabolic engineering approaches to enhance viral preparation titer and clinical grade. The work has been performed under the supervision of Ana Sofia Coroadinha, head of the Cell Line Development and Molecular Biology Lab – ACT UNIT (IBET/ITQB-UNL).