António Xavier Prize 2018 announced today
Award ceremony integrated in the 25th celebration of the ITQB NOVA Day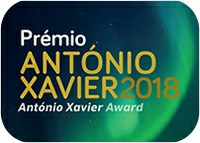 Oeiras, 9.01.2019
The Prémio António Xavier 2018 has been awarded to Joana Margarida Franco Dantas from Faculdade de Ciências e Tecnologia, Universidade Nova de Lisboa. The award ceremony took place today during the celebration of the 25 years of ITQB NOVA.
The prize was instituted by Bruker to acknowledge the tireless commitment of Professor António Xavier, founder of ITQB NOVA, to Portuguese scientific development. In 2018, the jury, headed by Prof. Helena Santos, selected the best PhD Thesis among those published in 2017, reporting research work conducted in Portugal, in the area of NMR, EPR or MRI.
The awarded thesis is entitled "Characterization of extracellular electron transfer networks in Geobacter sulfurreducens, a key bacterium for bioremediation and bioenergy applications" and was attributed to Joana Dantas who did her PhD in FCT NOVA under supervision of Carlos Salgueiro. The award was handed by Helena Santos and João Dias de Sousa, on behalf of Bruker.