Bacterial cell regulation in review
Current Opinion in Microbiology co-edited by ITQB researcher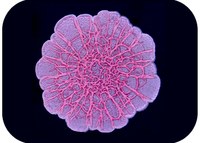 Oeiras, 25.07.2014
The April edition of Current Opinion in Microbiology, dedicated to cell regulation, was co-edited by Cecília M. Arraiano, head of the Control of Gene Expression Lab, and Gregory M Cook from the University of Otago, New Zealand.
Current Opinion in Microbiology is a systematic review journal that aims to provide specialists with a unique and educational platform to keep up-to-date with the expanding volume of information published in the field of Microbiology. As in other journals of the Current Opinion series, owned by Elsevier, each bimonthly issue cover a specific topic and is edited by scientists who specialise in the field and invite authors to contribute with reviews aimed at experts and non-specialists.
In this issue of Current Opinion in Microbiology, the issue editors chose to highlight the "many levels at which cellular regulation and sensing take place, and the mechanisms by which regulation occurs". Through sixteen review articles, including two contributions from the editors themselves, scientists from all over the world discuss the physiological and molecular responses of the bacterial cell to changing environmental conditions.