Basic Experimental Techniques in Biological Dynamics
Call for applications to ESF-ITQB workshop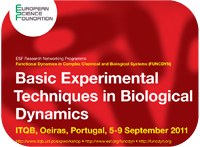 Oeiras, 17.03.2011
Registrations are now open for the ESF-ITQB Workshop in Basic Experimental Techniques in Biological Dynamics to be held at ITQB, between 5 and 9 of September.
The workshop is intended for young scientists with a background in chemistry, biology, physics or mathematics, without prior knowledge of basic experimental techniques in biology. This laboratory workshop provides first hands-on experiences on a selection of four basic experimental methods used in the study of biological systems.
The participation is supported by grants from the European Science Foundation. More information can be found here.
The deadline for applications is May 31st.