Best PhD thesis in supercritical fluids is from ITQB
Awarded by the International Society for Advancement of Supercritical Fluids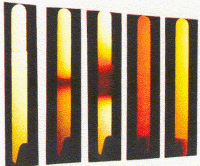 Supercritical CO2
Ana Rita Cruz Duarte, former PhD student at the Laboratory of Nutraceutics and Delivery (ITQB/IBET), was distinguished by the International Society for Advancement of Supercritical Fluids (ISASF) with the award for the Best Thesis in 2006 in this area.
The thesis "Exploring supercritical fluid technology for the development of controlled drug delivery systems" was supervised by Catarina Duarte and the corresponding PhD degree in Chemical Engineering was awarded to Ana Rita Duarte by ITQB in June 2006.
The international prize from ISASF, this year attributed ex aequo to Ana Rita and a Dutch PhD student, was announced during the 5th International Symposium in Chemical Engineering and Pressure Processes that took place between 24th and 27th of June 2007 in Segovia (Spain).
Oeiras, 11/07/07