Best poster at FEBS/EMBO Conference
Life Sciences meeting gathers 2000 participants in Paris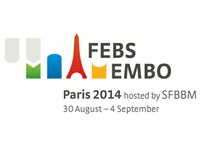 Oeiras, 11.09.2014
Marta Marques, a final year PhD student supervised by Pedro Matias and Inês A.C. Pereira, was awarded a "Poster of the Day" prize, sponsored by EMBO reports, at the FEBS/EMBO Conference that took place in Paris last week.
The prizes for scientific posters were awarded based on high-quality and exciting unpublished research, presented in a clear and appealing manner. Journal editors and EMBO Young investigators selected the best posters among almost 2000 submitted abstracts, evaluated the oral presentations at the conference, and finally designated four Best Posters per day, sponsored by the journals EMBO Journal, EMBO Reports, Molecular Systems Biology and EMBO Molecular Medicine.
The work entitled "Structural and functional studies of a high activity NiFeSe Hydrogenase" was developed at the Bacterial Energy Metabolism Laboratory and the Industry and Medicine Applied Crystallography Laboratory, in collaboration with Instituto de Catálisis y Petroleoquímica at CSIC, Madrid. The work reported the characterization of the first recombinant NiFeSe hydrogenase from Desulfovibrio vulgaris Hildenborough, and presented high-resolution 3D structures obtained by X-ray crystallography. This study provides important insights into the process of O2 inactivation of this group of enzymes, and contributes to the design and improvement of biocatalysts for H2 production.
The FEBS/EMBO Conference is a joint joint conference of the Federation of European Biochemical Societies (FEBS), EMBO - Excellence in life sciences, and the French Society for Biochemistry and Molecular Biology (SFBBM).