Best poster award at Spores Conference
Bacterial spores community meets in London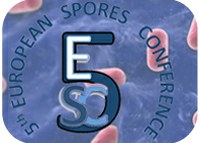 Oeiras, 03.05.2012
During the 5th European Spores Conference, which took place in London in April, Fátima Pereira (first author) and Filipa Nunes (presenting author) from the Microbial Development Lab received the prize for the best poster.
The European Spore Conference provides the only worldwide forum for scientists with an interest in spores and spore-forming bacteria. For the first time held in London, this year's meeting was organized in five thematic sections; spore structure and function, developmental gene regulation, spore formation in the Bacilli and Clostridia, the role of spores in infection and disease, and applications including probiotics.

Poster reference
Fátima Pereira, Filipa Nunes, Anabela L. Isidro, Teresa C. Costa, Cláudio M. Soares, and Adriano O. Henriques. 2012. A LysM domain integrates the subcellular localization signal of coat morphogenetic protein SafA of Bacillus subtilis. Spores Conference. London, UK. April 16-19.