Best Poster in Vaccine Technology
Vaccine Technology V Conference gathers vaccine specialists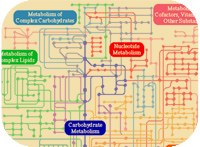 Oeiras, 25.06.2014
The Vaccine Technology Best Poster Prize was awarded to Francisca Monteiro, PhD student from the Animal Cell Technology Unit. The Vaccine Technology V Conference took place from 8 to 13 of June at Paradisus Playa del Carmen, Mexico.
The work entitled "Tweaking insect cell platforms for the production of multivalent VLPs: Metabolic profiling, pathway analysis and bioprocess optimization" (authors: Francisca Monteiro, Vicente Bernal, Anis Hamdi, Petra Drncova, Maxime Chaillet, Imre Berger and Paula M. Alves) focuses on the rational design of improved vaccine manufacturing, bridging fundamentals on cellular physiology with current challenges in recombinant products production. In the work the authors describe the applicability of a metabolic pathway analysis framework to the phenotypic characterization of the insect cell-baculovirus expression system, which was further explored to identify targets for bioprocess optimization aiming at increased final titers of the recombinant product and/or vaccine. The respective optimization strategies were designed in a target product-oriented manner, and the proof-of-concept was successfully achieved for the production of a viral vector, a recombinant protein and an influenza candidate vaccine.
This work was supported by the European Comission FP7, ComplexINC Project, which aims the development of high-throughput technologies for the expression of complex biopharmaceuticals in eukaryotic systems and Fundação para a Ciência e Tecnologia through the fellowship BD/7013/2010.
The Vaccine Technology Conference series aims to gather key leaders in the field to discuss and review progress made in generating new vaccine targets, new technologies for vaccines and new adjuvants. Moreover, key strategic issues are subjected to extensive debate such as how to generate a new vaccine very quickly and also how to make vaccines more available to the developing world.