BioCrys Course on its 7th edition
Macromolecular Crystallography FEBS Course welcomes 35 participants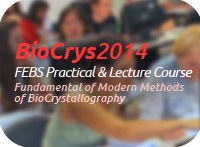 Oeiras, 22.09.2014
This week, between 20 and 27 of September, ITQB welcomes the seventh edition of the BioCrys course. Thirty-five participants from all over Europe, India, and North and Latin America are expectd in this FEBS Practical and Lecture Course focused on Macromolecular Crystallography.
Macromolecular crystallography is used to study biological molecules, such as proteins, viruses and nucleic acids (RNA and DNA), with high resolution so as to determine their tridimensional structure and understand how they function in living cells. The rapid development of the field and the fact that many young researchers do not receive a formal education in Crystallography makes this a very timely and important course. With the introduction of high-throughput methods, understanding the theory behind modern methods is critical to overcome the difficult problems not solved by the automated procedures.
Biocrys 2014 is organized by Maria Arménia Carrondo from ITQB and Thomas Schneider from EMBL-Hamburg, Germany, and is structured with lectures in the mornings and interactive practicals and tutorials in the afternoons. Evening lectures will address important topics within Structural Biology. The list of speakers includes several researchers from ITQB.