Carbon monoxide kills bacteria and opens door for novel antibiotics
ITQB researchers involved in pioneer study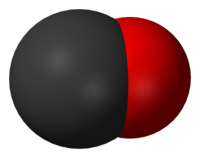 Carbon Monoxide
Oeiras, 23/11/07
A research work led by ITQB researcher, Lígia Saraiva, has demonstrated for the first time that carbon monoxide kills different kind bacteria, including Staphylococcus, a well known pathogen that has been acquiring a worrying resistance to currently used antibiotics. Also involved in this study were Carlos Romão, João Seixas and Lígia Nobre.
While carbon monoxide (CO) is toxic in high doses, our body has the ability to produce this gas since it is necessary for many essential physiological processes. CO-releasing compounds are being explored for medical applications but so far this has been restricted to cardiovascular, immune and nervous system related diseases.
In this work both commercially available and new CO-releasing compounds – produced and patented by the start-up company Alfama, also involved in this work – have been tested and their ability to release CO inside the bacteria leading to their rapid death has been demonstrated. These findings could be the starting point for the development of novel types of therapeutic drugs designed to combat antibiotic resistant pathogens, which are widespread and presently a major public health concern.
This discovery was patented by Alfama and the work is published in the current issue of the journal Antimicrobial Agents and Chemotherapy.

Original Paper:
Ligia S. Nobre, João D. Seixas, Carlos C. Romão, Ligia M. Saraiva "The Antimicrobial Action of Carbon Monoxide Releasing Compounds" Agents and Chemotherapy Volume 51 (12): 4303–4307.