Celebrating ITQB
ITQB Day marks 22 years within Universidade NOVA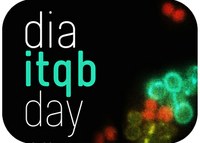 Oeiras, 10.07.2015
Today, July 10, ITQB celebrates twenty two years since its integration in Universidade NOVA de Lisboa. The Rector, António Bensabat Rendas, and the Secretary of State for Science, Leonor Parreira, join ITQB researchers and staff for this cellebration of ITQB's reserach and educational activities.
In this day, ITQB Director, Cláudio M. Soares, highlights "ITQB is not just about the numbers that attest our scientific quality. ITQB is mainly about the people who contribute to the working environment that makes this such a special institute. And the ITQB Day is a great example for that." The cellebration in the auditorium will include the testimonies of researchers, postdocs, students and support staff about what it means to work at ITQB.
As in previous years, today's ceremony includes the public announcement and award ceremonies of the António Xavier Prize, a tribute to ITQB's founder, and of the Best PhD Thesis Prize.
Following the more official ceremony, the cellebration continues with a barbecue and music outside. The party is expected to go on long into the night.
See Program.