Chris Schofield on the chemistry of oxygen sensing
Next Frontier Leaders seminar on March 19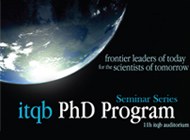 Oeiras, 16.03.10
Next Friday, March 19, the Frontier Leaders seminar series will host another ERC Advanced Grant recipient: Christopher Schofield from the University of Oxford will discuss "The Chemistry of Oxygen Sensing in Humans".
The European Research Council> Advanced Grants allow exceptional established research leaders in any field of science, engineering and scholarship to pursue frontier research of their choice. Christopher Schofield was awarded with the European Research Council Advanced Grant (€2M) in 2008 to study the molecular mechanism of oxygen sensing by enzymes.
Chris Schofield is Professor of Chemistry, and a Fellow of Hertford College. His research applies chemical principles and techniques to understanding biology, and to tackling medicinal problems. His over 400 scientific papers, including some in Nature, Science and Cell) have granted him over 5,000 citations.
Schofield's group has a particular interest in enzymes, or biological catalysts, that harness the energy stored in atmospheric oxygen to carry out chemical reactions that would otherwise be near impossible. These oxygen utilising enzymes, or oxygenases, are involved in biologically and medicinally important processes ranging from penicillin biosynthesis, to signalling between plants, and in human diseases including obesity and the repair of damaged DNA.
The seminar series Fontiers Leaders of Today for the Scientists of Tomorrow is specially designed to integrate the ITQB PhD Program and brings to Portugal eight renowned researchers in biology and chemistry, selected among the recipients of ERC Advanced Grants. This seminar series is supported by Fundação Calouste Gulbenkian.

Frontiers Leaders of Today for the Scientists of Tomorrow
ITQB Auditorium
19 March, 10h30

Christopher Schofield, University of Oxford, UK
The Chemistry of Oxygen Sensing in Humans
NEXT 30 April: Philipe Sansonetti, Institut Pasteur, FR