DATE CHANGE: António V. Xavier Seminar on May 14th
Enabling environments for biotechnology by Carlos Faro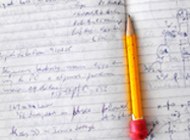 António V. Xavier's notebook
PLEASE NOTICE THE DATE CHANGE
The António V. Xavier Seminar initially schedulled for May 7th has been postponed to May 14th.
Since September, ITQB is hosting a new seminar series entitled António V. Xavier Seminars, in memory of the scientist and founder of ITQB. Ten distinguished scientists have been invited to talk about their areas of expertise, covering a wide range of topics throughout the year.
The seminars are held once a month on Thurdays 11:00 AM at the ITQB Auditorium and are open to the public.
In May 14, Carlos Faro from Biocant, will discuss Enabling environments for biotechnology.
See António V. Xavier Seminars programme