On astrophysics and life in the Universe
António V. Xavier Seminar on June 4th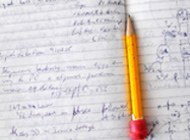 António V. Xavier's notebook
Since September, ITQB is hosting a new seminar series entitled António V. Xavier Seminars, in memory of the scientist and founder of ITQB. Ten distinguished scientists have been invited to talk about their areas of expertise, covering a wide range of topics throughout the year.
The seminars are held once a month on Thurdays 11:00 AM at the ITQB Auditorium and are open to the public.
In the last seminar of this first series, Rui Jorge Agostinho from Universidade de Lisboa, will talk about the Astrophysical conditions for life in the Universe.

See António V. Xavier Seminars programme