Double effect against inflammation
CO releasing molecule works best when coupled to anti-inflammatory drug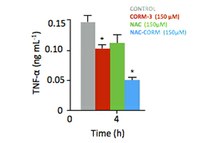 Oeiras, 04.09.2015
Carbon monoxide is also known for its anti-inflammatory properties and different strategies are being sought for delivering it to the organism. A team of researchers involving the company Alfama, the Lab of Organometallic Chemistry, and the Lab of Molecular Genetics of Microbial Resistance, together with a team from iMMLisboa led by Gonçalo Bernardes, has developed a new carbon monoxide releasing molecule coupled with a drug with anti-oxidant and anti-inflammatory properties, which elicits an enhanced anti-inflammatory effect in vitro. The study is published as a HOT paper in Chemistry - A European Journal.
"What we found, even if these are early findings, is that by combining the anti-inflammatory drug N-Acetylcysteine (NAC) with a ruthenium compound able to release carbon monoxide, we achieve a double anti-inflammatory effect" explains João Seixas first author of the paper formerly at Alfama and ITQB, presently at iMMLisboa. "This compound is able to both deliver biologically active carbon monoxide and to scavenge the reactive oxygen species, known to be formed during the carbon monoxide release process and which contribute to the inflammation response". The data suggests that similar compounds may also act synergistically to elicit an enhanced anti-inflammatory response.
"This work really strengthens previous work in carbon monoxide therapy, an area we have led in the last decade" says Carlos Romão, head of the Lab of Organometallic Chemistry and co-founder of Alfama, a pharmaceutical company focusing on carbon monoxide releasing molecules.
The paper has also the collaboration from researchers from University of Cambridge (UK) and the University of Cartagena (Colombia).
Original Article
Chemistry - A European Journal (2015) Early View DOI: 10.1002/chem.201502474
An N-Acetyl Cysteine Ruthenium Tricarbonyl Conjugate Enables Simultaneous Release of CO and Ablation of Reactive Oxygen Species
João D. Seixas1,2,3, Miguel Chaves-Ferreira1, Diana Montes-Grajales 4,5, Ana M. Gonçalves3, Ana R. Marques3, Lígia M. Saraiva2, Jesus Olivero-Verbel5, Carlos C. Romão2,3 and Gonçalo J. L. Bernardes1,4
1 - iMMLisboa, 2- ITQB, 3 - Alfama, 4 - University of Cambridge (UK), 5 - University of Cartagena (Colombia)