Enzyme structure on stamp?
New mail stamp designed by Nuno Micaelo up for vote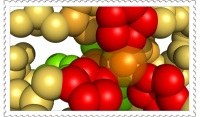 Click and have your say

In the stamp competition organized by CTT, the theme Ciência em Portugal was one of the most voted.
A stamp designed by Nuno Micaelo (former ITQB PhD student) is now in the shortlist of the most voted stamps. But only the 10 most voted stamps will remain in the competition.

The image used for this stamp is a representation of the molecular structure of the CotA-laccase from Bacillus subtilis. The structure of this enzyme, important for many biotechnological applications (for example: in the pulp and paper industry), was determined at ITQB in 2003. The CotA-laccase is the object of study of many research projects at ITQB.

Learn more about this stamp here.
Vote for this stamp by clicking below.