Extraordinary success for internal fundraising campaign
An open letter from the Director of ITQB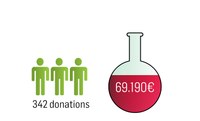 14.12.11
Dear All,
We have officially concluded our internal fundraising campaign. Throughout November, we received almost 350 donations, collecting circa 70,000 Euros. These are extraordinary numbers by all accounts; they will cover a significant part of the expenses to replace the so-called chillers as well as those to renew the building's energy control system. I would like to publicly thank all of those who have anonymously contributed to this cause. I am also taking this opportunity to appraise this unprecedented initiative in a public Portuguese institution.
We are living, we all know that, very harsh times, severe times for each and every one of us, unkind for institutions that are facing a growing number of financial and human difficulties.
In this atmosphere of adversity, I was constantly surprised by the generosity of those who approached me with ideas of solidarity campaigns to overcome specific obstacles, such as purchasing new scientific equipment or supporting human resources. At the same time, I was struggling with the eminent failure of several infrastructural devices, which had only outlived their lifetime due to the dedication and competence of our maintenance services. I knew how difficult it had been to include this expense in our annual budget over the years. I also knew of the good will of our funding institutions; however, I was also aware of their own financial constraints at this point.
And this is when two ideas became one. The replacement of these apparatus would benefit all; rather than focusing on particular research area equipment, this was something so fundamental that it could indeed unite us all in a common effort. So, our internal fundraising campaign was born: a challenge to all – researchers, staff, students and alumni contributing anonymously and voluntarily with as much as they could to help replacing the building's energy control system.
Knowing for so long the special character of the people in this institution, I believed in the success of this campaign from the start. But, as often happens, reality surpassed the best expectations. Not only in regards to numbers, which are truly exceptional, but by the number of ideas and initiatives that have flourished during the past month at ITQB, a demonstration of the distinctive spirit of this institution. I doubt any other director has ever felt as proud of its institution as I do right now.
I wish to heartedly thank you for all your support and I assure you that this initiative will never be forgotten. An annual award will be created to celebrate our esprit de corps.
As you know, replacing the chillers will also impact our energy savings. This money will be converted to science, as it should be. So the benefit is doubled; not only have you assured that ITQB continues to function at its best but you are also contributing to our future success.
Meanwhile, we have extended this campaign to those outside. Our internal commitment has convinced others to contribute as well. We believe we have set a new standard for companies and institutions, and, who knows, for individuals, to support research at ITQB. There will be other, more important measures needed in order to solve our financial hurdles – some of those are already under study – but encouraging external donations is a project we should nurture.
I wish to finish by thanking Professor Manuela Chaves for the way she has led and monitored the whole process and for the immense dedication and professionalism of Ana Freire in managing all the donations.
With my sincere gratitude to you all
Luis Paulo N. Rebelo
See here the rate of donations throughout the campaign: