Fascinated by Plants Worldwide
700 events in 52 countries, Portugal on top 3 worldwide in events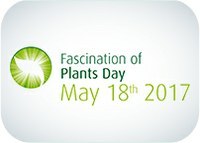 Oeiras, 18.05.2017

Today is the Fourth International Fascination of Plants Day. This plants scientists' initiative has been already adopted by 52 countries worldwide, engaging people with more than 700 events and is supported by a network of National Coordinators who voluntarily promote and disseminate the activity within their countries. ITQB NOVA and Sociedade Portuguesa de Fisiologia Vegetal are Portugal coordinators and have gathered 25 institutions promoting 52 activities, putting Portugal on top 3 of countries Fascinated by Plants.
A variety of over 710 plant-based outreach activities for all interested people, from toddlers to grandparents, were already uploaded online by scientific institutions, universities, botanical gardens, and museums, together with farmers and companies, who will open their doors for you to enjoy the interactive events.
In Portugal, events can be found in Almada, Beja, Bragança, Caldas da Rainha, Cantanhede, Castelo Branco, Coimbra, Évora, Faro, Fornos de Algodres, Funchal, Gaia, Lisboa, Maia, Moura, Oeiras, Porto and Sintra, with activities raging from field trips, open days, exhibitions, seminars, talks and more, all with free entrance. Events are being updated on the dedicated facebook page.
"We are very proud of having so many different institutions celebrating this event with us since its inception in 2012. This is a great day for everyone that works with plants and want to share with everyone how fascinating we find them", said Nelson Saibo, National Coordinator. "We find particularly interesting the diversity of institutions that are celebrating this day, from research institutions, even from social sciences and humanities, to botanical gardens, museums and science centers, parks, pharmacies, universities and companies", continued Joana Lobo Antunes, co-coordinator.
This special day will put the fascinating world of plants itself in the spotlight: numerous activities on and around the Fascination of Plants Day, under the umbrella of the European Plant Science Organisation EPSO and the Global Plant Council, will plant virtual and constantly germinating seeds in the collective mind of the World Public recalling that plant science is of critical significance to the social, environmental and economic landscape now and in future.
The Fascination of Plants Day covers all plant related topics including basic plant science, agriculture, horticulture & gardening, forestry, plant breeding, plant protection, food & nutrition, environmental conservation, climate change mitigation, smart bioproducts, biodiversity, sustainability, renewable resources, plant science education & art.
The previous International Fascination of Plants Days were an incredible start of the initiative – over 965 events were organized at over 590 institutions from 56 countries worldwide in 2015, attracting many thousands people – see for yourself the success stories and check out events and facts.

Anyone who would like to contribute to the Fascination of Plants Day is still welcome to join in. Just contact your National Coordinator to discuss and get access to all the supporting materials.
In the media