First 3D structure of phosphotransferase
Membrane protein is involved in the synthesis of phospholipids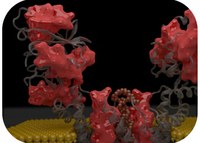 Oeiras, 19.06.2014
Determining the tridimensional structure of a protein is always a challenge and a particularly difficult one when it comes to membrane proteins. Researchers from the Membrane Protein Crystalography Lab and the Cell Physiology and NMR Lab have successfully characterized the structure and function of a membrane phosphotransferase involved in the synthesis of phospholipids, the major component of biological membranes. The work, which involved researchers in France, Germany, Russia, and UK, is published today in Nature Communications.
Researchers focused their efforts on a phosphotransferase from Archaeoglobus fulgidus, a termophilic organism where this protein plays central role in the production of a thermostabilizer compound. But the importance of membrane phosphotransferase goes beyond this important function. Because phospholipids play a central role in all cells, researchers believe that proteins in this family may serve as therapeutic targets and as such understanding their structure, and thus their catalytic mechanism, may prove to be key in the development of drugs against cancer or infectious diseases.
During the paper submission, researchers were confronted with a similar finding by a group from Columbia University (US). But what could have turned into a fight for the priority of discover ended up in an almost simultaneous publication in the same journal and the beginning a new collaboration.
This publication is one more hallmark for protein crystallography at ITQB in the International year of Crystallography.

Original Article
Nature Communications 5, Article number: 4169 | doi:10.1038/ncomms5169

X-ray structure of a CDP-alcohol phosphatidyltransferase membrane enzyme and insights into its catalytic mechanism
Przemyslaw Nogly, Ivan Gushchin, Alina Remeeva, Ana M. Esteves, Nuno Borges, Pikyee Ma, Andrii Ishchenko, Sergei Grudinin, Ekaterina Round, Isabel Moraes, Valentin Borshchevskiy, Helena Santos, Valentin Gordeliy & Margarida Archer