First Poster Prize for ITQB Student
At the Cell Culture Engineering XI Conference in Australia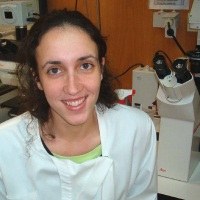 Rita Malpique
Rita Malpique, ITQB PhD student, won the first poster prize in the Cell Culture Engineering XI, which took place in Australia from 11 to 16 April.
The poster, entitled "Cell Culture and Cryopreservation in an Alginate Environment: Applications in Cell-Based Therapies and Toxicology Testing", was authored by Rita Malpique, Friederike Ehrhart, Alisa Katsen-Globa, Manuel J.T. Carrondo, Heiko Zimmermann and Paula Alves.
Rita is entering her third Ph.D. year at ITQB's Animal Cell Technology Laboratory and is co-supervised by Paula Alves and Heiko Zimmermann from the Fraunhofer-Institut für Biomedizinische Technik (IBMT)
The bi-annual Cell Culture Engineering conferences are a leading venue for the academic, industrial and regulatory communities to learn and debate new concepts and issues related to animal cell culture research and commercial development.