From the lab to the bedside - iNOVA4Health projects
1st iNOVA4Health Annual Meeting at NOVA University of Lisbon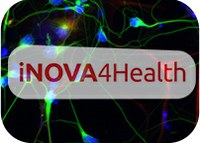 Oeiras, 27.06.2016
(with iBET)
23 projects that bring together cross-cutting activities of research were presented and discussed during the 1st iNOVA4Health meeting. All projects aim to widen their activities to an international level and to innovate the paradigm of medicine, extending it from the laboratory to the bedside of the patient, contributing to a more personalized and effective medicine. The agenda of the meeting can be found here.
"In this first annual meeting it already becomes clear that the participant teams are not doing "more of the same", as so often happens in new programs. The 23 projects that are going to be discussed during this Annual Meeting have all required bridges to be established amongst at least two teams of the three different competence groups - basic biological understanding of disease, developmental/technological and clinical. These 23 projects were started during this first year, after a clear "bottom up" effort by iNOVA4Health researchers, with strong support from the iNOVA4Health Management Board" says Manuel Carrondo, coordinator of this research unit.
iNOVA4Health is a Research Unit funded by Fundação para a Ciência e Tecnologia, FEDER and PT2020 with the objective of promoting a Translational Medicine Network at NOVA University of Lisbon. The unit includes 18 research groups, with over 130 PhDs and clinicians.
The Unit is managed by iBET, essentially responsible for the preclinical development. ITQB NOVA covers chemical and biochemical synthesis and caractherization of new targets or drugs. CEDOC - Center for Chronic Diseases of the NOVA Medical School brings in most of the medical basic research. IPOLFG, Portuguese Oncology Institute is involved in clinical and translational research in Oncobiology. Clinicians from 10 Hospitals, where the NOVA Medical School carries out its clinical teaching duties, will be responsible for the final translational steps. Biopharmaceuticals for the translational work (phase I/phase II clinical trials), in particular Advanced Therapy Medicinal Products (ATMP's), may be manufactured at GeniBET Biopharmaceuticals, an iBET spin off (45% owned) producing under GMP certification.
ITQB NOVA research projects at iNOVA4Health:
Generation of genetically-modified hiPSC cell lines for the development of a new transcriptional program sensor system for diagnoses and therapeutics. PI's: José Ramalho (CEDOC); Alisson Gontijo (CEDOC); Patrícia Gomes-Alves (iBET/ ITQB NOVA)
CardioRegen: Integrative studies in cardiogenesis: from the embryo to scalable multipronged generation of hESC-derived myocardial cells for heart tissue repair. PI's: José Belo (CEDOC); Paula Alves (iBET/ ITQB NOVA)
Development of a non-invasive method to measure blood glucose through the skin without need of calibration. PI: Abel Oliva; Paula Macedo (CEDOC)
Characterization of anti-HDL (aHDL) antibodies: identification of their biologic activity and clinical relevance. PI's: José Alves (CEDOC); Maria Arménia Carrondo (ITQB NOVA)
SynDia: Synucleins – the link between Parkinson and Diabetic Retinopathy? PI's: Sandra Tenreiro (CEDOC); Gabriela Silva (CEDOC); Cláudia Santos (iBET/ ITQB NOVA)
Colorectal Carcinogenesis Pathways - Establishing a link between carcinogenesis & therapeutic response. PI's: Isadora Rosa (IPOLFG); Catarina Brito (iBET/ ITQB NOVA)
(per)Sulfidomics: benchmarking mechanisms underlying drug toxicity and drug resistance in precision medicine. PI: João Vicente (ITQB NOVA); Jacinta Serpa (IPOLFG/ CEDOC); Sofia Pereira (CEDOC)
MioSpA: the role of the muscle in Spondyloarthritis, a new paradigm. PI's: Fernando Pimentel-Santos (CEDOC); Júlia Costa (ITQB NOVA)
Searching for positive markers in triple negative breast cancer. PI's: Sofia Braga (CEDOC); António Jacinto (CEDOC); Sofia Rebelo (iBET/ ITQB NOVA)
The effect of dual HER2 blockade on anti-tumor immune cells. PI's: Inês Pires Silva (IPOLFG); Catarina Brito (iBET/ ITQB NOVA)
In the media
Unidade de investigação em saúde iNOVA4Health já desenvolve 23 projetos, Lusa, 26.06.2016

Unidade de investigação em saúde iNOVA4Health já desenvolve 23 projetos, RTP, edição online, 26.06.2016

Unidade de investigação em saúde iNOVA4Health já desenvolve 23 projetos, Diário Digital, 26.06.2016

Unidade de investigação em saúde iNOVA4Health já desenvolve 23 projetos, Destak, edição online, 26.06.2016

Unidade de investigação em saúde iNOVA4Health já desenvolve 23 projetos, Correio da Manhã, edição online, 26.06.2016

23 projetos de investigação já em marcha, Correio da Manhã, edição em papel, 27.06.2016

Investigação lança 23 projetos, Jornal de Notícias, edição em papel, 27.06.2016

Unidade de investigação em saúde iNOVA4Health já desenvolve 23 projetos, Netfarma, 27.06.2016

iNOVA4Health nasceu há um ano e tem em marcha 23 projetos, Indice.Eu, 27.06.2016

iNOVA4Health completa um ano e tem em marcha 23 projetos, PIPOP Portal de Informação Português de Oncologia Pediátrica, 28.06.2016