Gunnar von Heijne on membrane proteins
New Frontier Leaders Seminar on February 24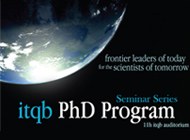 Oeiras, 18.02.10
Next Thursday, February 24, the Frontier Leaders seminar series will host another ERC Advanced Grant recipient: Gunnar von Heijne from Stockholm University will discuss "How membrane proteins are inserted into the endoplasmic reticulum".
The European Research Council Advanced Grants allow exceptional established research leaders in any field of science, engineering and scholarship to pursue frontier research of their choice. Gunnar von Heijne was awarded with the European Research Council Advanced Grant (€2M) in 2008 to study how membrane proteins, which constitute a third of all the proteins in a cell, fold to form their final three-dimensional structure.
Gunnar von Heijne is one of the most cited Swedish scientists in the areas of biochemistry and molecular biology. He heads the Center for Biomembrane Research at Stockholm University. von Heijne is a member of the Royal Swedish Academy of Sciences since 1997 and is the chairman of the Nobel Committee for Chemistry. In 2008, he received an honorary doctorate at Åbo Akademi.
The seminar series Fontiers Leaders of Today for the Scientists of Tomorrow is specially designed to integrate the ITQB PhD Program and brings to Portugal eight renowned researchers in biology and chemistry, selected among the recipients of ERC Advanced Grants. This seminar series is supported by Fundação Calouste Gulbenkian.

Frontiers Leaders of Today for the Scientists of Tomorrow
ITQB Auditorium
24 Feb, 11h00
Gunnar von Heijne, Stockholm University
How membrane proteins are inserted into the endoplasmic reticulum
NEXT 9 March: Bruno Lemaitre, École Politechnique Federale de Lausanne, CH
The gut immune response of Drosophila
19 March: Christopher Schofield, University of Oxford, UK
The Chemistry of Oxygen Sensing in Humans
30 April: Philipe Sansonetti, Institut Pasteur, FR
7 October: Paul Christou, Universitat Leida, ES
Third generation transgenic plants and the politics of plant biotechnology
9 Nov: Ari Helenius, ETH, CH
A systems approach to virus entry
11 Jan: Thomas Welton, Imperial College, UK
In Search of an Ionic Liquid Effect