Frontier Leader seminar - POSTPONED
Immunologist Peter Lachmann discusses the complement system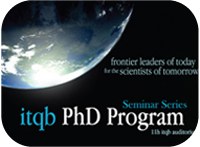 This seminar has been rescheduled due to unforeseen difficulties that made it impossible for Professor Peter Lachmann to travel to Lisbon. The seminar is now sheduled for May 24th.
Oeiras, 02.12.10
On Tuesday, December 7, Peter Lachmann, distinguish immunologist, will give a lecture at ITQB entitled: "Complement – where we are now and where we are going". The lecture is included in the Seminar Series of the ITQB PhD Program "Frontier Leaders of Today for the Scientists of Tomorrow".
Professor Sir Peter Lachmann is emeritus Sheila Joan Smith Professor of Immunology at Cambridge University, a fellow of Christ's College, Cambridge and honorary fellow of Trinity College, Cambridge and of Imperial College. He was knighted for service to medical science in 2002.

"Complement – where we are now and where we are going" by Peter Lachmann
The complement system has the reputation of being complex and arcane. It is, in reality, one of the most elegant triggered enzyme cascades in blood plasma. An account of its history, both evolutionary and of its discovery, will be given. The emphasis will be on the C3 feedback cycle that is at the heart of the complement system, and the way in which this cycle is regulated. The genetically determined "hyperinflammatory complement phenotype" will be discussed and the role it plays in disease - particularly dense deposit disease (DDD) in the kidney, haemolytic uraemic syndrome, age related macular degeneration (AMD); and possibly also in Alzheimer's disease. How this more recent knowledge can be applied for clinical purposes will be the final topic.

Sir Peter Julius Lachmann MBBChir ScD (Cantab) FRCP FRCPath FRS FMedSci
Emeritus Sheila Joan Smith Professor of Immunology, University of Cambridge.
Peter Lachmann trained in biochemistry and medicine at Cambridge and University College Hospital graduating MBBChir in 1956. He was a postgraduate student in immunology with Robin Coombs in Cambridge and with Henry Kunkel at Rockefeller University and obtained his PhD in 1962 for a thesis on the pathogenesis of Systemic Lupus Erythematosus.
He was an assistant director of research in the Department of Pathology in Cambridge (1964-1971) and foundation professor of immunology at the Royal Postgraduate Medical School (1971-1975) Since 1976 he has worked in Cambridge as Director of the MRC Molecular Immunopathology Unit and professor of Immunology. He is a fellow of Christs College. He retired in 1999 but ran a laboratory till 2005.
His principal research interests have been in the immunochemistry, biology and genetics of the complement system. Contributions in this field include working out the mechanism of the C3b feedback cycle and first describing and characterising Factor I; describing the mechanism of reactive lysis, a form of complement activation involving only the terminal components; and describing CD59 as the molecule that protects cells from homologous complement lysis. His group also worked quite widely on the genetics of the complement system and on complement deficiency states.
He was the founder President of the UK Academy of Medical Sciences (1998-2002), Biological secretary of the Royal Society (1993 –98) and President of the Royal College of Pathologists (1990-93). He served on the SAB of SmithKline Beecham from 1995-2000 and was a co-founder (and chairman of the SAB) of Adprotech, a company spun out of SB to develop therapies aimed at modifying complement function.