How can we improve Oeiras through science?
Until February 1, share your ideas on how to bring science and citizens closer together. This competition marks the beginning of a Citizen Science project promoted by Oeiras Municipality, in partnership with ITQB NOVA and IGC.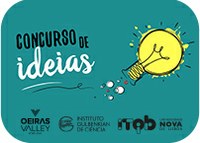 Oeiras 27.01.2020
(PT version below)
Until February 1, Oeiras Municipality, in partnership with ITQB NOVA and Gulbenkian Institute of Science (IGC), is promoting the first ideas competition designed to develop a closer and more direct relationship between Science and Society. The initiative aims to collect contributions from the entire community on new approaches and projects that can bring science and citizens closer together.
The ideas submitted will then be discussed during the Citizen's Assembly "Fórum dos Cidadãos", to be held on February 8 and 9. This initiative is the launching of an innovative, open and collaborative Citizen Science Project that gives voice to citizens and actively involves them in the development of science projects and of the future of Oeiras.
The aim of this project is to involve the Municipality, the scientific institutions and community in a co-creation process in which everyone actively participates in building a more informed, cohesive and participatory society.
Leave your contribution and participate!
ITQB NOVA, IGC and CMO have the support of Fórum dos Cidadãos in the organization of this citizen's assembly.
(PT version)
Decorre até 1 de fevereiro o primeiro concurso de ideias promovido pela Câmara Municipal de Oeiras, em parceria com o ITQB NOVA e o Instituto Gulbenkian de Ciência, com vista a desenvolver uma relação mais estreita e direta entre a Ciência e a Sociedade. A iniciativa pretende recolher contributos de toda a comunidade sobre formas e projetos que aproximem a ciência e os cidadãos.
As ideias propostas serão depois discutidas durante a Assembleia Cidadã, a realizar a 8 e 9 de fevereiro, e que vem dar início a um modelo inovador, aberto e colaborativo para dar voz aos cidadãos e envolvê-los ativamente no desenvolvimento de projetos de ciência e do futuro do Concelho de Oeiras. Município, instituições e comunidade são envolvidos num processo de cocriação em que todos participam de forma ativa na construção de uma sociedade mais informada, coesa e participativa.
Participe com as suas ideias e deixe o seu contributo!
O ITQB NOVA, o IGC e a CMO contam com o apoio do Fórum dos Cidadãos para a organização desta assembleia.