In memory of António Xavier
FEBS Letters issue dedicated to electron/proton coupling in biological energy transduction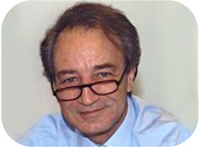 Oeiras, 08.03.12
This week, the journal FEBS letters publishes a very special issue. One where researchers former colleagues, students, and others touched by this man's vision pay tribute, through their work, to the memory of the renowned researcher and founder of ITQB, António V. Xavier.
In a collection of reviews and original articles on electron/proton coupling in biological energy transduction, this issue gives the state of the art on this topic and, in the words of its editors, Miguel S. Teixeira and Ricardo Louro, has the "purpose to assemble a tome that Antonio himself would have enjoyed reading".
The scientific articles, including a review by António Xavier's PhD supervisor Robert J. Williams, are preceded by a number of testimonies by colleagues and friends.
This special issue of FEBS letters results from a joint initiative of the Federation of the European Biochemical Societies (FEBS) and the Sociedade Portuguesa de Bioquímica.